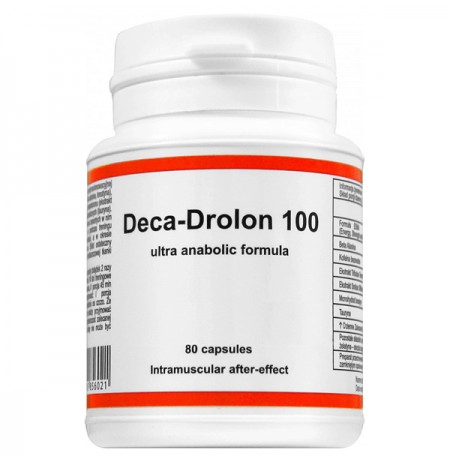 View larger
BIO AGE PHARMACY DECA-DROLON 100 80 CAPS
✔ Supports The Development Of Lean Muscle Mass!
✔ Stimulates The Synthesis Of Endogenous Testosterone!
✔ The Strength Results Improvement!
✔ Improves Endurance And Performance During Training!
✔ Supports Detoxification Of The Body!
✔ Strongly Stimulates!
BIO000005
New
Availability date:
Bio Age Pharmacy Deca-Drolon 100 is an ultra-anabolic formula designed for people seeking to increase muscle mass, boost testosterone synthesis, improve athletic performance, and properly regenerate the body. Its composition includes a complex of potent substances with scientifically proven efficacy. This effective product is based on the innovative formula of ESMA (Energy, Strength and Mood Activators), which consists of highly energetic, muscular enhancing ingredients and also beneficial for the mood. Each serving contains 2 capsules of 1000mg of this highly anabolic formula. The active compounds contained in Deca-Drolon also contribute to increased levels of free testosterone and increased muscle anabolism. This allows you to achieve even better sports results and strengthen the body that the demanding athlete expects.
RECOMMENDED USE As a dietary supplement, take 1 capsules two times daily, preferably 30 min before meal or training. Take a single serving of the product with 300 ml (10 oz.) of water.
NUTRITION FACTS
Serving Size: 1 Capsule
Servings Per Container: 80
Amount Per Serving:
Formula ESMA™ (Energy, Strenght and Mood Activators): 1 000 mg
Beta Alanine, Caffeine Anhydrous, Extract Tribulus Terrestris, Extract Smilax Officinalis, Creatine Monohydrate
OTHER INGREDIENTS: Magnesium stearate – anti-caking agent, gelatin capsule.
WARNINGS Keep out of reach of children. Do not exceed the recommended daily dose. Food supplements should not be used as a substitute for a varied andbalanced diet. A varied and balanced diet and a healthy lifestyle are recommended.
| | |
| --- | --- |
| Type | Capsules |
| Container size: | 80 caps. |