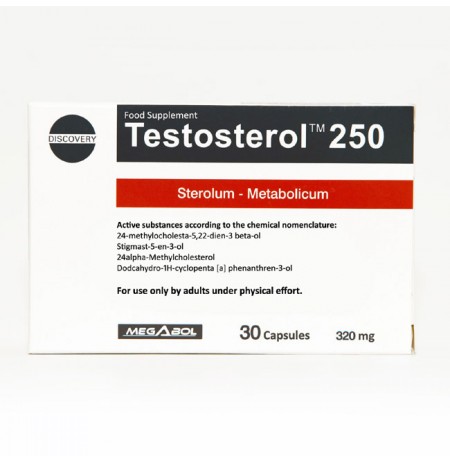 View larger
MEGABOL TESTOSTEROL™250 30 Capsules
* Increases Testosterone Level

* Post Cycle Therapy - PCT

* Non-Steroidal High Anabolic Formula

* Probably The Most Effective Testo Booster

* Deep Relaxing And Peaceful Sleep

MEG000008
New
Availability date:
Testosterol™250 contains sterols of natural origins. It is a precursor in biosynthesis of 17-ketosteroid which trigger protein synthesis and development of muscles. It is also a precursor for synthesis of testosterone and estrogens without causing disproportion between these hormones, blocking receptors for unfavorable androgens.

Testosterol™250 recommended for bodybuilders and intensively training sportsmen, practicing strenuous endurance sports, focusing on development of muscle tissue. Research made in 2006 has shown that during 30 days period average body mass gain from using one pack of product is 2-3 kg.
Testosterol™250 is designed by Polish scientist – Dr Różański Ph.D. of biochemistry to increase testosterone through themost effective pro-anabolic pathways. The high quality active ingredients in this formula ensure maximum potency and effectiveness unlike anything else available today. The unique sapogenins matrix in Testosterol™250 is specifically structured to optimize a healthy pro-anabolic environment without producing any unwanted side effects. Notably, we have included sapogenins from a variety of sources that encompasses the broadest range of desirable effects on supporting pro-anabolism in the body with the greatest potency possible.
Testosterol™250 is scientifically proven to stimulate muscle androgen receptors (AR's) for enhanced protein synthesis and enhanced production of luteinizing hormone (LH). LH performs many functions including sex drive and sexual stamina. LH is also a direct indicator of testosterone production. By augmenting the output of LH your body will also improve its output of testosterone. Elevated testosterone levels support increased muscle mass and strength and also help recovery and endurance.
NUTRITION FACTS
Active ingredients (extracts) in 1 capsule:
24-methylcholesta-5,22-dien-3 beta-ol.....................................7mg
Stigmast-5-en-3ol............................................................100mg
24alpha-Methylcholesterol...................................................50mg
dodecahydro-1H-cyclopenta(a)phenanther-3-ol..........................35mg
DIRECTIONS
Consume 1 capsule
Testosterol™250
per day, after meal.
Testosterol™250
should be taken every day. Considering stimulating characteristics for activity, these product should be taken before 6 p.m. On training days You should take
1 capsule of
Testosterol™250
after meal one hour before workout.
Take the product with 300ml (10 oz.) of water.
WARNINGS Keep out of the reach of young children. Do not exceed the recommended daily dose. Food supplements should not be used as a substitute for a varied and balanced diet. A varied and balanced diet and a healthy lifestyle are important. Do not take during pregnancy and in children or for prolonged periods without consulting a doctor.
| | |
| --- | --- |
| Type | Capsules |
| Container size: | 30 caps. |