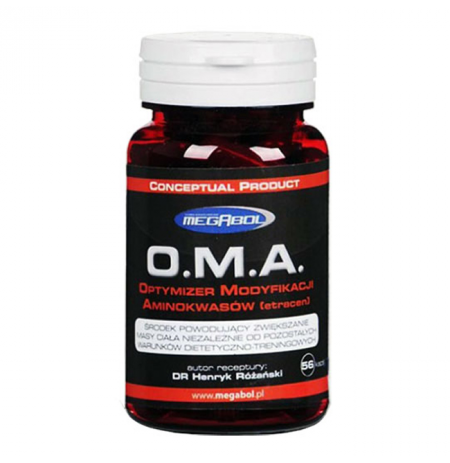 View larger
MEGABOL O.M.A. 56 Capsules
* Unique Formula
* Anti-catabolic Effect

* Improving Metabolic Processes

* Liver Support

* Optimizing Balance Of Protein

* Muscle Mass Growth Booster 
MEG000002
New
Availability date:
O.M.A. is the first product based on amino acid decarboxylation inhibitors (etracen),designed for men. This process also called metabolic economy was presented in scientific publications in 2003 (R. Vespalec and others), in 2005 (H. Liedreman) in 2007-09 appeared in the work of a group of researchers from Dr. H. Rozanski indicating the effectiveness of the method in muscle building (increase of 7% final). The effectiveness of the method of saving metabolic (etracen) in the sport is being determined.
Etracen stimulates the growth of muscle mass by inhibiting decarboxylation of amino acids and stimulate protein digestion and amino acid metabolic savings and directing them to the synthesis of proteins. It works similarly to the analogous compounds developed and used for several years in culture to stimulate growth of the animals. 
Etracen causes inhibition of transaminase (aminotransferase): alanine aminotransferase and asparate aminotransferase. Reduces the concentration of microsomal enzymes, including cytochrome P-450. Transaminase cause the transfer of amino group between different amino acids (amino acid cores), which trails the pace and type of metabolism (catabolism or synthesis) of individual amino acids undergo radical change. The consequence is an increase in blood levels of alkaline phosphatase and free amino acids. This is a positive effect on metabolism, the mechanism depends on the leverage effect of alkaloids to weight gain. This is the first available supplement which includes butein chalcones.

NUTRITION FACTS
Content in one capsule:
Etracen 2,5 mg
Organic acids 700 mg
Isoquinoline alkaloids: 13-Methyl- [1,3] benzodioxolo [5,6-c] -1,3- dioxol [4,5-] phenanthridinium,2,2- dimethoxy-12- methyl [1,3] benzodioxole [ 6-c] phenanthridin-12-ium 7-Methyl-6,8,9,16-tetrahydrobis [1,3] benzodioxolo [4,5- c: 5 ', 6'-g] azecin-15 (7H) One [1,3] Benzodioxolo [5,6-c] -1,3-dioxolo [4,5- i] phenanthridin-6-ol
DIRECTIONS Take 1 capsule of O.M.A. 2 times a day. Portions must be eaten at least 8 hours apart. Consume with approximately 300 ml (10 oz.) of water.
WARNINGS Keep out of the reach of young children. Do not exceed the recommended daily dose. Food supplements should not be used as a substitute for a varied and balanced diet. A varied and balanced diet and a healthy lifestyle are important. Do not take during pregnancy and in children or for prolonged periods without consulting a doctor.
| | |
| --- | --- |
| Type | Capsules |
| Container size: | 56 caps. |