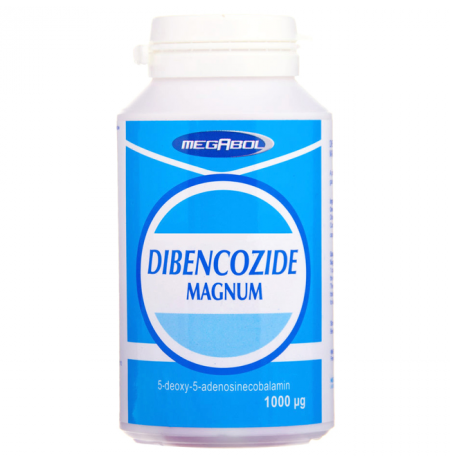 View larger
MEGABOL DIBENCOZIDE MAGNUM 100 Capsules
* Muscle Mass Stimulant - Anbolic Effect 
* Appetite Stimulant

* Coenzyme Of Vitamin B12 
MEG000005
New
Availability date:
Dibencozide MAGNUM ™ 5-deoxy-5-adenozylokobalamin - a measure with a strong anabolic effect. The preparation used in the build up phase and the development of muscular strength. The action usually begins after several days of use. Acting as a metabolic factor biostimulator process of protein synthesis in ribosomes. Involved in the synthesis of methionine from homocysteine and the synthesis of thymidine. There is a hydrogen transfer agent in the reactions of nucleic acid synthesis and transmethylation reactions. Magnum ™ Dibencozide after 10 hours. the adoption is not detectable in plasma. In people susceptible to effects of the body comes to beats giving effect accelerated the development of muscle tissue to the improvement of force parameters. The measure is also indicated for people who do not train regularly, and only want to quickly improve. Dibencozide Magnum ™ to increase the appetite in people with underweight. Megabol Dibencozide Magnum - a unique combination of strong muscle mass stimulant.
NUTRITION FACTS
| | | |
| --- | --- | --- |
| Container size: | 100 capsules | |
| Serving size: | 1 capsule | |
| Servings per container: | 100 | |
| Supplement facts: | per 1 capsule | amount |
| | Vitamin B12 | 1000 mcg |
DIRECTIONS The recommended allowance is 1 capsule daily. With intensive training dosage might be increased up to to 3 capsules per day. Preferably take 30 min. before training on an empty stomach in the morning or at bedtime. Take the product with 300 ml (10 oz.) of water.
WARNINGS Keep out of the reach of young children. Do not exceed the recommended daily dose. Food supplements should not be used as a substitute for a varied and balanced diet. A varied and balanced diet and a healthy lifestyle are important. Do not take during pregnancy and in children or for prolonged periods without consulting a doctor.
| | |
| --- | --- |
| Type | Capsules |
| Container size: | 100 caps |