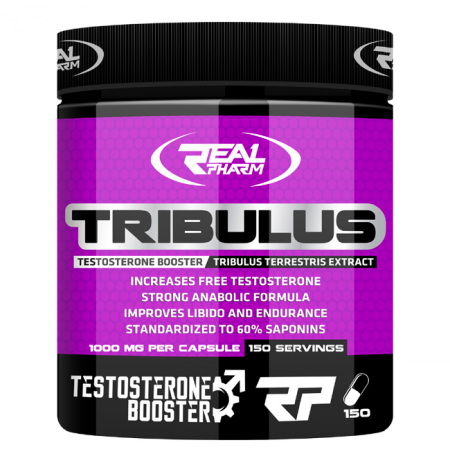 View larger
REAL PHARM TRIBULUS 150 CAPSULES
* Increases Testosterone Levels 
* Strong Anabolic Formula

* Improves Libido And Endurance

* 150 Servings - Economy Bootle

* Tribulus Terrestris Extract - 60 % saponins

REA000001
New
Availability date:
If you are looking for an effective and fully natural supplement to stimulate testosterone production, Tribulus by Real Pharm will meet all your expectations!
Tribulus terrestris is one of the most powerful plants known for its unique properties, which enhance the functioning of the human body. In traditional Eastern medicine Tribulus terrestris has a reputation of being a strong aphrodisiac and it is used to improve general body fitness and treat all types of sexual disorders.
Tribulus by Real Pharm contains an outstanding 1000 mg dose of tribulus terrestris extract enclosed in a special capsule, which additionally increases its absorption by the body.
Tribulus by Real Pharm effectively enhances physical and sexual performance, improves your endurance during workout and increases your strength!
With Tribulus by Real Pharm you will increase the effectiveness of lean muscle gain, increase your strength which is key to making your workout longer and more intense, and improve your general fitness so that you will achieve your training goals more quickly!
Tribulus by Real Pharm is an ideal product for every man. Even though it is especially recommended for physically active people, including professional and amateur athletes, its potential will be also appreciated by men coping with lowered libido and sexual dysfunctions!
One of the great advantages of Tribulus by Real Pharm is its 100% natural composition, which means that it can be used without any worries about side effects – the product does not supply any hormones, it simply stimulates your hormonal system to work more effectively.
Try it and see for yourself, that you can do much more – not only in the gym! Enjoy your life and the new capabilities provided by Real Pharm's Tribulus – with our supplement you will increase the speed and effectiveness of post-workout recovery, achieve the perfect physique more quickly, enhance your endurance and strength, and improve your sexual life!
NUTRITION FACTS
| | | |
| --- | --- | --- |
| Active ingredients | 1 serving (1 capsule): | %RDA |
| Extract of the fruits of Tribulus terrestris standardized to 60 % saponins | 1000 mg | ** |
%RDA – Recommended Daily Allowance, ** – RDA not established.
Ingredients: extract of the fruits of Tribulus terrestris (standardized to 60 % saponins), Gelatine (capsule), Water (capsule), Titanium dioxide (colourant).
DIRECTIONS Take 1 capsule a day during a meal. Do not exceed the maximum of 1 serving (1 capsule) daily, wash down with 300ml (10oz.) of water. 
WARNINGS Keep out of the reach of young children. Do not exceed the recommended daily dose. Food supplements should not be used as a substitute for a varied and balanced diet. A varied and balanced diet and a healthy lifestyle are important. Do not take during pregnancy and in children or for prolonged periods without consulting a doctor.
| | |
| --- | --- |
| Type | Capsules |
| Container size: | 150 caps. |