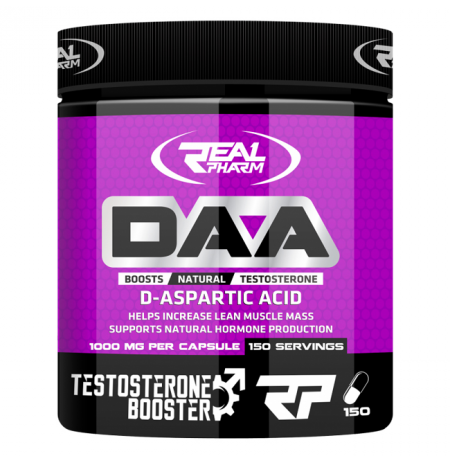 View larger
REAL PHARM DAA 150 CAPSULES
* Enhances Protein Synthesis

* Provides The Quickest Post-Workout Recovery

* Improves Muscle Strength
* Increases Production Of Testosterone
* Helps To Increase Lean Muscle Mass
* Supports Natural Hormone Production

REA000006
New
Availability date:
DAA is one of the key elements of your supplementation. This product was specially designed for professional athletes, amateurs who enjoy active lifestyle as well as everyone who perform heavy physical work. The quickly soluble coating of DAA by Real Pharm makes is the best alternative to traditional tablets which limit the absorption of d-aspartic acid and may cause irritation of stomach lining.
Another advantage of DAA is its beneficial influence on the male hormonal system. Our supplement will help you to maintain full sexual function and reduce all dysfunctions caused by the excessive strain on the body caused by intense physical activity and nutritional deficiencies!
Regular use of DAA by Real Pharm will enable you to significantly speed up lean muscle growth, gain additional anticatabolic protection and increase the production of testosterone, which not only affects anabolic reactions but is also essential to maintain sexual function and boost the libido!
The purest d-aspartic acid which you can find in DAA by Real Pharm will give you the quickest effect of supplementation in comparison to other products of this type. Try it and see for yourself that Real Pharm supplements are the best possible choice!
NUTRITION FACTS
| | | |
| --- | --- | --- |
| Active ingredients | 1 serving (1 capsule) | %RDA |
| D-aspartic acid | 1000 mg | ** |
%RDA – Recommended Daily Allowance, ** – RDA not established.
DIRECTIONS 1 serving – 1 capsule a day. Do not exceed the maximum of 1 serving (1 capsule) daily.
WARNINGS Keep out of the reach of young children. Do not exceed the recommended daily dose. Food supplements should not be used as a substitute for a varied and balanced diet. A varied and balanced diet and a healthy lifestyle are important. Do not take during pregnancy and in children or for prolonged periods without consulting a doctor.
| | |
| --- | --- |
| Type | Capsules |
| Container size: | 150 caps. |