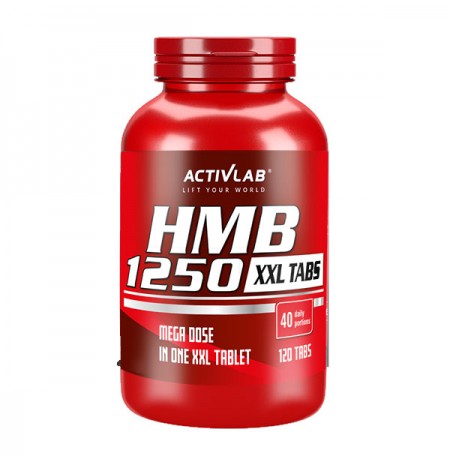 View larger
ACTIVLAB HMB 1250 120 Tablets
* Huge 1250 mg Of HMB-Ca In One Tablet 
* Lean Mass Builder

* Compete Protection From Catabolism

* Fast Muscle Recovery

* Increase Strength

ACT000054
New
Availability date:
HMB 1250 XXL TABS (B - hydroxy B- methylbutyrate) is a bioactive substance which plays one of the most important roles in the body. It occurs in small amounts in food and is also produced by the human body from the amino acid L-leucine. HMB exerts a complex effect on the body, due to which it has become one of the most popular and most commonly used supplements among sportsmen. One of its undoubted advantages is a strong anti-catabolic effect preventing the decomposition of systemic proteins. Additionally, due to increasing anabolic effects of training by 50%, it considerably eases the gaining of muscle strength and mass, and takes part in muscle tissue formation.
HMB shows a strong fat burning effect (by stimulating the body to draw energy from fat reserves), increases organism fitness, improves muscle resistance and oxygen efficiency. It also protects the body against undesirable effects of stress, effects of sustained physical effort and also helps to alleviate physical problems connected with old age. Each tablet of Activlab HMB 1250 XXL Tabs contains as much as 1250 mg of HMB-Ca, i.e. 1000 mg of pure HMB! Activlab HMB 1250 XXL Tabs is recommended to active people, athletes and other sportsmen, and also during a slimming diet.
NUTRITION FACTS
| | | |
| --- | --- | --- |
| Container size: | 120 tablets | |
| Serving size: | 1 tablet | |
| Servingsper container: | 120 | |
| Supplement facts: | Per 1 tablet: | Amount: |
| | Ca-HMB | 1250 mg |
| | including: HMB | 1000 mg |
DIRECTIONS
On training days 1 tablet 30 min before exercise, 1 tablet after exercise and 1 tablet at bedtime. On non training days 1 tablet at bedtime.
Take the product with 300 ml (10 oz.) of water.
WARNINGS Keep out of the reach of young children. Do not exceed the recommended daily dose. Food supplements should not be used as a substitute for a varied and balanced diet. A varied and balanced diet and a healthy lifestyle are important. Do not take during pregnancy and in children or for prolonged periods without consulting a doctor.
| | |
| --- | --- |
| Type | Tablets |
| Container size: | 120 tabs. |