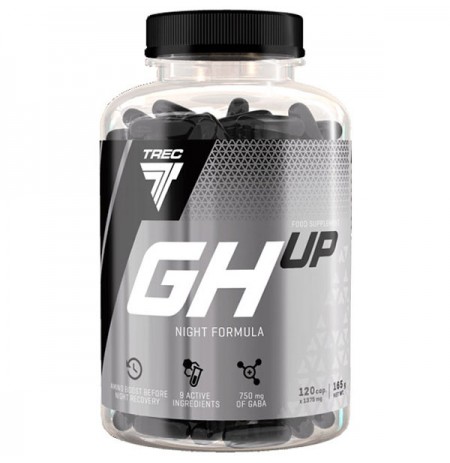 View larger
TREC NUTRITION® GH UP 120 CAPS
✔ Helps In Building Lean Muscle Mass!
✔ Stimulates The Synthesis Of Hormones!
✔ Improves Endurance In Training!
✔ Supports Regeneration!
✔ Helps In Fat Loss!
✔ Facilitates Falling Asleep And Improves The Quality Of Sleep!
✔ Improves The Well-Being Throughout The Day!
✔ Limits Catabolism After Training!

TRE000194
New
Availability date:
GH UP contains L-arginine, L-ornithine and L-lysine and citrulline malate. The product was also supplemented with gamma-aminobutyric acid, L-tryptophan, L-theanine and L-glycine. GH UP is a product recommended as a supplement to amino acids before the period of night regeneration.
INGREDIENTS:

 

L-Arginine alpha-ketoglutarate; L-lysine hydrochloride; L-ornithine alpha-ketoglutarate; L-arginine malate; capsule shell (gelatin, dyes - iron oxides and hydroxides, titanium dioxide); gamma-aminobutyric acid (GABA); L-tryptophan; anti-caking agent - magnesium salts of fatty acids; L-theanine; L-glycine; citrulline malate.
DIRECTIONS:
 

Take one portion of the preparation - 6 capsules, drink 300 ml of water. Use 1 serving daily, 30 min. bedtime.
WARNINGS: Keep out of the reach of young children. Do not exceed the recommended daily dose. Food supplements should not be used as a substitute for a varied and balanced diet. A varied and balanced diet and a healthy lifestyle are important. Do not take during pregnancy and in children or for prolonged periods without consulting a doctor.
| | |
| --- | --- |
| Type | Capsules |
| Container size: | 120 caps. |