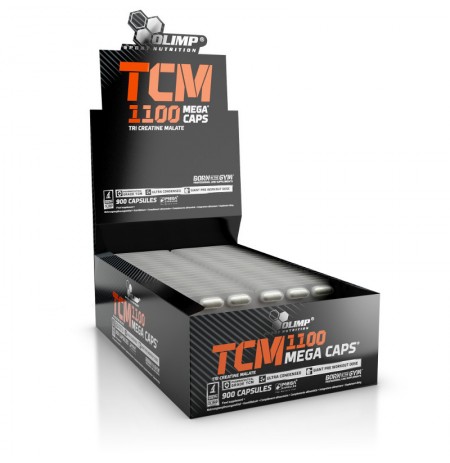 View larger
OLIMP SPORT NUTRITION® TCM 30 CAPSULES
* High Dose 1100 mg TCM In 1 Capsule
* Giant Pre-Workout Dose
* Does Not Cause Water Retention
* Pharmaceutical Grade Muscle Mass Builder
* Laboratory Tested Strength Booster
OLI000024
New
Availability date:
A POWERFUL DOSE OF PHARMACEUTICALLY CLEAN CREATINE MALATE!!!
1100MG OF CREATINE MALATE IN 1 MEGA CAPS CAPSULE!!!
TCM Mega Caps® contain 100% creatine malate (Tricreatine malate), a molecule that binds creatine particles with malate particles. As a glucose metabolite from the group of carboxylic hydroxy acids, malate stimulates insulin and greatly supports the transportation and absorption of creatine by the muscle cells in a resting metabolism and metabolism during exercise.
Creatine malate is a form of creatine that dissolves and absorbs better, is stored longer, and is transformed into phosphocreatine in a more efficient manner than traditional creatine supplements. The consumption of 3g of creatine a day contributes to the increase of physical strength during short, repeated, high-intensity exercises.
The water solubility of TCM Mega Caps® creatine malate is much better than that of traditional monohydrate. Solubility is extremely important in the absorption process, as the body can only take the substances that have been dissolved from the gastric tract.
NUTRITION FACTS
1 Blister - 30 Capsules
| | | | |
| --- | --- | --- | --- |
| Nutrition information | 1 Capsule | 2 Capsules | 4 Capsules |
| Tri-creatine malate | 1100 mg | 2200 mg | 4400 mg |
INGREDIENTS 84,6% creatine malate (tricreatine malate), bulking agent – microcrystalline cellulose, anti-caking agent - magnesium salts of fatty acids, capsule (gelatin, colour: E 171).
DIRECTIONS Take 2 capsules 2 times daily – before breakfast, after training or before sleep, drinking with large amount of water.
WARNINGS Keep out of the reach of young children. Do not exceed the recommended daily dose. Food supplements should not be used as a substitute for a varied and balanced diet. A varied and balanced diet and a healthy lifestyle are important. Do not take during pregnancy and in children or for prolonged periods without consulting a doctor.
| | |
| --- | --- |
| Type | Capsules |
| Container size: | 30 caps. |