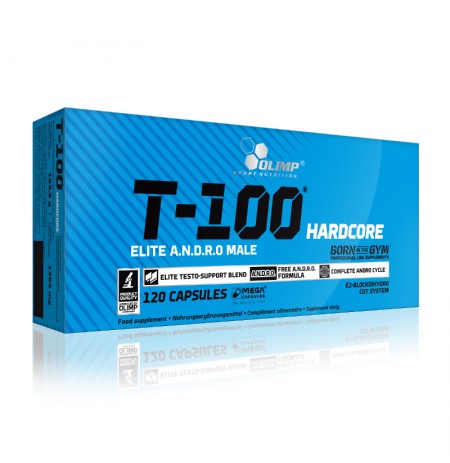 View larger
OLIMP SPORT NUTRITION® T-100® HARDCORE 30 CAPSULES
* Giant Dose Of Tribulus Terrestris
* Free A.N.D.R.O. Formula
* Strong Testosterone Booster
* Elite Testo-Support Blend / E2-Block
* Dihydro Cut System
OLI000058
New
Availability date:
The second scene of the groundbreaking T-100® with optimized, still stronger formula, completed with unrivalled extract from pomegranate, in compliance with ellagic acid standard. The composition additionally includes among others zinc, which contributes to maintaining of correct level of testosterone in blood and vitamin B6, which contributes to control of hormone activity.
This preparation is intended for adults, physically active men and sportsmen.
NUTRITION FACTS
1 Blister - 30 Capsules
Nutrition information

3 capsules

ELITE TESTO-SUPPORT BLEND

2015,4 mg

Fenugreek extract
of which: 90% saponine

1000,2 mg
500,1 mg

Tribulus terrestris extract
of which: 60% saponine

750 mg
675 mg

Tribulus terrestris extract
of which: saponine
protodioscin

250,2 mg
150,2 mg
50 mg

Zinc (as amino acid zink chelate)

15 mg (150%*)

E2-Block

399 mg

Extract of pomegranate
of which: ellagic acid

288 mg
201,6 mg

Avena sativa extract
of which: flavones

105 mg
7,35 mg

Black pepper extract
of which: piperine

6 mg
5,7 mg

DIHYDRO CUT SYSTEM

120 mg

Extract of sabal minor
of which: fatty acids

120 mg
54 mg

FREE A.N.D.R.O. FORMULA

509,8 mg

Maca root extract

300 mg

Extract of common nettle

150 mg

Magnesium

57 mg (15%*)

Vitamin B6

2,8 mg (200%*)
*%RDA - recommended daily allowance
INGREDIENTS 24,4% extract of fenugreek (Trigonella foenum-greacum), 18,3% extract of tribulus terrestris (Tribulus terrestris L.; 90% saponins), 7,3% extract of lepidium meyenii (Lepidium meyenii Walp.), 7,3% magnesium malate, 7% extract of pomegranate seeds (Punica Granatum), 6,1% extract of tribulus terrestris (Tribulus terrestris; 60% saponins, 20% protodioscins), bulking agent - microcrystalline cellulose, 3,7% extract of common nettle (Urtica dioica), 2,9% extract of sabal minor (Saw palmetto), 2,6% extract of oat (Avena sativa); anti-caking agents - magnesium salts of fatty acids, silicon dioxide; 0,2% zinc bisglycinate (amino acid zinc chelate of Albion®), 0,1% extract of black pepper (Piper nigrum), 0,1% pyridoxine hydrochloride - vit. B6, capsule (gelatine, colour: E171).
DIRECTIONS Take 1 capsule 3 times per day during meal.
WARNINGS Keep out of the reach of young children. Do not exceed the recommended daily dose. Food supplements should not be used as a substitute for a varied and balanced diet. A varied and balanced diet and a healthy lifestyle are important. Do not take during pregnancy and in children or for prolonged periods without consulting a doctor.
| | |
| --- | --- |
| Type | Capsules |
| Container size: | 30 caps. |