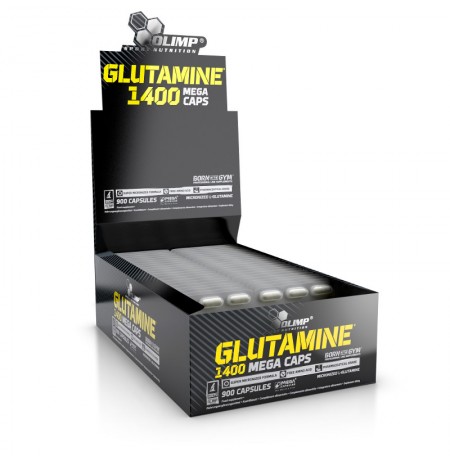 View larger
OLIMP SPORT NUTRITION® GLUTAMINE 30 CAPSULES
* 1 Blister - 30 Capsules

* High Dose 1400 mg Of Glutamine In 1 Capsule

* Most Importand Amino Acid

* Fast Muscle Recovery
*

Prevents Muscle From Being Catabolized
*

Minimizes Breakdown Of Muscle And Improves Protein Metabolism

OLI000013
New
Availability date:
GLUTAMINE MEGA CAPS®/MEGA CAPSULES® is a preparation which contains a 100% pharmaceutical, micronised form of glutamine – an amino acid found in high concentrations in muscles and plasma. Glutamine is the most essential amino acid for muscle tissue adaptation. It stores organic nitrogen and facilitates the creation of positive nitrogen balance. It distributes amino groups for the transamination and finally the synthesis of muscle proteins. Glutamine constitutes over 60% of all free amino acids in muscle cells and over 20% of all amino acids found in the body. Micronised L-glutamine is more easily absorbable and much more active than traditional glutamine and glutamine peptide.
Micronised glutamine increases the growth of strength and lean muscle mass. It has strong anti-catabolic properties, i.e. it inhibits the activity of enzymes which destroy muscle proteins. It is converted into glutathione and increases its level by as much as 40%; glutathione – as an antioxidant – stabilizes cell organelle membranes and inhibits the secretion of catabolic enzymes. As the transporter of amino acids in the gamma-glutamyl cycle, it facilitates protein synthesis and the creation of positive nitrogen balance. Glutamine increases cellular hydration, muscle glycogen reserves and the level of anabolic growth hormone while decreasing the level of catabolic cortisol. It also accelerates fat tissue reduction, mitigates fatigue by reducing the acidification of muscle cells and helps the body develop appropriate immunity.
NUTRITION FACTS
1 Blister - 30 Capsules
Amount Per Serving

In 1 Capsule

In 3 Capsules

Calories

26 kJ/ 6 kcal

78 kJ/ 18 g

Protein

< 0,5 g

0,6 g

Carbohydrates
of which sugars

0 g
0 g

0 g
0 g

Fat

0 g

0 g

Salt

0 g

0 g

L-glutamine

1400 mg

4200 mg
INGREDIENTS 89,5% L-glutamine, bulking agent – microcrystalline cellulose, anti-caking agent –magnesium salts of fatty acids, capsule (gelatine, colour: E 171).
DIRECTIONS Take 1 portion (1 capsule) three times daily, drinking with large amount of water -  – before breakfast, after training and before sleep.
WARNINGS Keep out of the reach of young children. Do not exceed the recommended daily dose. Food supplements should not be used as a substitute for a varied and balanced diet. A varied and balanced diet and a healthy lifestyle are important. Do not take during pregnancy and in children or for prolonged periods without consulting a doctor.
| | |
| --- | --- |
| Type | Capsules |
| Container size: | 30 caps. |