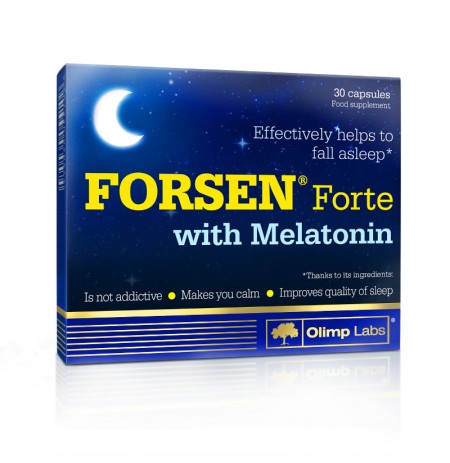 View larger
OLIMP LABS® FORSEN FORTE 30 CAPSULES
* High Quality Sleeping Aid 
* Regulate Your Sleep/Wake Cycle
* Deep Relaxing Sleep
* Potent Antioxidant
OLI000061
New
Availability date:
Forsen Forte is a food supplement in the form of capsules including a composition of herbal extracts which, together with melatonin, beneficially affect the process of falling asleep. The preparation is additionally supplemented with magnesium and vitamin B6, important during tiredness and fatigue, and vitamin B1 which is beneficial to the nervous system.
Studies have shown that:
Melatonin – helps to shorten the time needed to fall asleep, as well as helps in alleviating subjective symptoms of jet lag syndrome
Ashwagandha extract (Withania somnifera L.) has adaptogenic effect, supports the body during periods of nervous tension and anxiety, and thus increases its resistance to stress. Helps to maintain emotional balance and well-being and helps to fall asleep
Lemon balm extract (Melissa officinalis L.) has relaxing and calming effect in states of anxiety and emotional tension. It helps to maintain a good mood and cognitive functions, as well as it enhances peaceful rest. Helps to improve the quality of sleep
Hops extract (Humulus lupulus L.) has a soothing effect on the nervous system and supports healthy sleep
Magnesium and vitamin B6 contribute to reducing tiredness and fatigue. Like vitamin B1, they help to maintain normal psychological functions and proper functioning of the nervous system.
NUTRITION FACTS
| | |
| --- | --- |
| Amount Per Serving | In 1 Capsule |
| Lemon balm leaf extract (Melissa officinalis L.) | 200 mg |
| Hops extract (Humulus lupulus L.) | 120 mg |
| Ashwagandha extract, 1.5% withanolides | 50 mg |
| Melatonin | 1 mg |
| Vitamin B6 | 2,8 mg (200%*) |
| Vitamin B1 | 2,2 mg (200%*) |
| Magnesium (magnesium citrate and magnesium oxide) | 70 mg (18,7%*) |
*% NRVs* - nutrient reference values
INGREDIENTS lemon balm leaf extract (Melissa officinalis L.), magnesium salt of citric acid (magnesium citrate), hops extract (Humulus lupulus L.), magnesium oxide, ashwagandha extract (Withania somnifera L.), bulking agent - cellulose microcrystalline, anti-caking - magnesium salts of fatty acids, silicon dioxide; pyridoxine hydrochloride - vitamin B6, thiamine hydrochloride - vitamin B1, melatonin, capsule (gelatin - shell component, colour: E171).
DIRECTIONS Take 1 capsule a day, preferably about 30 minutes before sleep, or otherwise after doctor's consultation. The capsule should be taken with a sufficient amount of water.
WARNINGS Keep out of the reach of young children. Do not exceed the recommended daily dose. Food supplements should not be used as a substitute for a varied and balanced diet. A varied and balanced diet and a healthy lifestyle are important. Do not take during pregnancy and in children or for prolonged periods without consulting a doctor.
| | |
| --- | --- |
| Type | Capsules |
| Container size: | 30 caps. |