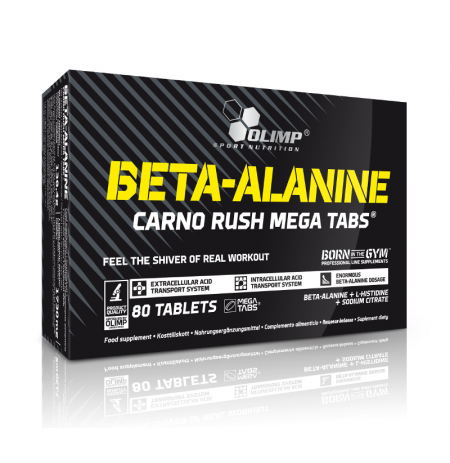 View larger
OLIMP SPORT NUTRITION® BETA-ALANINE 80 TABLETS
* 40 Gigantic Portions In One Package 
* Specially Designed Combination Of Beta-Alanine, L-Histidine And Vitamin B6
* BETA-ALANINE Carno Rush Mega Tabs® - Feel The Thrill of a Real Workout
* MEGA Dose of Beta-Alanine – 1000 mg in 1 Mega Tabs® With Added L-Histidine And Vitamin B6 
OLI000038
New
Availability date:
Beta-Alanine Carno Rush Mega Tabs® is a supplement designed for all who practice strength-endurance sports, strength sports and endurance sports that require great physical fitness maintained for a longer period of time, or have a great frequency of training sessions.
Beta-alanine Carno Rush Mega Tabs® helps to prolong the time before becoming tired, thus increasing the workout volume significantly. Beta-alanine and L-histidine supplemented together provide two substances necessary for the synthesis of carnosine, which shows great anti-oxidizing potential and may delay degrading processes in the cells during intense workouts. By providing these two substances at the same time, one can eliminate the risk of theirdeficit resulting from dietary mistakes that could decrease the level of carnosine, which is very important for the workout.
The product containts substances which in their ionized form create a buffer system in the blood, allowing metabolic waste (including acidic H+ ions which are produced in large amounts during workout and which delay muscle regeneration, exercise adaptation and muscle growth) to be transported from the cells to elimination organs. The ingredients of Beta-alanine Carno Rush Mega Tabs®, which in their ionized form create a buffer system in the blood, work synergistically to build an efficient system that deacidifies the body.
Vitamin B6 participates in amino-acid transformation and the efficient extraction of basic substances, later used in ATP synthesis, from fats and carbohydrates. This contributes to the proper formation of enzymes and hormones, as well as to the effective operation of the nervous system. Moreover, this vitamin increases the effectiveness of the absorption in the small intestine of other substances contained in the product.
BETA-ALANINE CARNO RUSH MEGA TABS® ELIMINATES THE QUESTION OF HOW LONG YOU WILL BE ABLE TO STAND EXTREME EFFORT, BUT BRINGS UP ANOTHER ONE:HOW LONG WILL YOU BE ABLE TO WAIT UNTIL YOUR NEXT WORKOUT?
NUTRITION FACTS
| | | | |
| --- | --- | --- | --- |
| Amount Per Serving | In 2 Tablets | In 3 Tablets | In 4 Tablets |
| Beta-alanine | 2000 mg | 3000 mg | 4000 mg |
| Sodium citrate | 300 mg | 450 mg | 600 mg |
| of which sodium: | 70,4 mg | 105,6 mg | 140,8 mg |
| L-histidine HCl | 100 mg | 150 mg | 200 mg |
| Vitamin B6 | 0,7 mg (50%*) | 1,05 mg (75%*) | 1,4 mg (100%*) |
*%RDA – recommended daily allowance
INGREDIENTS 56,2% beta-alanine, bulking agent – microcrystalline cellulose; 8,4% sodium citrate, thickeners – hydroxypropyl methyl cellulose, cross-linked sodium carboxy methyl cellulose; 2,8% L-histidine hydrochloride, anti-caking agents – silicon dioxide, magnesium stearate; pyridoxine hydrochloride – vit. B6.
DIRECTIONS Take 2 - 4 tablets per day before training, drinking with large amount of water.
WARNINGS Keep out of the reach of young children. Do not exceed the recommended daily dose. Food supplements should not be used as a substitute for a varied and balanced diet. A varied and balanced diet and a healthy lifestyle are important. Do not take during pregnancy and in children or for prolonged periods without consulting a doctor.
| | |
| --- | --- |
| Type | Tablets |
| Container size: | 80 tablets |