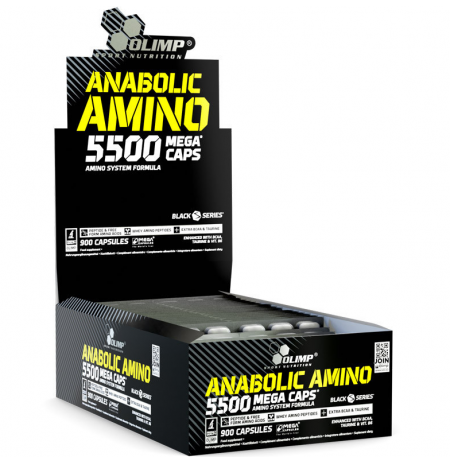 View larger
OLIMP SPORT NUTRITION® AMINO5500 30 CAPSULES
* 30 Capsules - 1 Blister
* BCAA+ Essential Amino Acids 
* Muscle Growth

* Pharmaceutical Grade!

* Strong Anabolic Effect

* Maximum Recovery

* Pure Whey Amino Acids Capsules

* 3 x Laboratory Tested 
OLI000009
New
Availability date:
ANABOLIC AMINO 5500 MEGA CAPS®/MEGA CAPSULES® A dietary supplement containing a combination of peptides and free amino acids in the form of capsules, with an additional reserve of branched-chain amino acids (BCAA), taurine and vitamin B6.
The product is particularly recommended for athletes participating in strength sports that build muscle mass, as well as bodybuilders, marathon runners, decathlon participants, all athletes whose disciplines require an increased dose of energy, as well as convalescents.
NUTRITION FACTS
1 Blister - 30 Capsules
Amount Per Serving

In 6 Capsules

Calories

90 kJ / 22 kcal

Protein

5,3 g

Carbohydrates

0 g

Fat

0,01 g

Model Of Amino Acid Profile

Total amino acids

5500 mg

L-Glutamic acid

694 mg

*L-Leucine

946 mg

L- Aspartic acid

484 mg

*L-Lysine

424 mg

L-Proline

232 mg

*L-Valine

460 mg

*L-Isoleucine

454 mg

*L-Threonine

244 mg

L-Alanine

238 mg

L-Serine

184 mg

*L-Phenyloalanine

160 mg

L-Thyrosine

160 mg

L-Arginine

136 mg

L-Glycine

88 mg

L-Methionine

124 mg

*L-Histidine

88 mg

L-Cysteine

142 mg

*L-Trypthophane

88 mg

Taurine

154 mg

Vit. B6

0,7 mg (50%**)
* Exogenic amino acids
**RDA – recommended daily allowance
INGREDIENTS: 83% whey protein hydrolyzate, 14% branched chain amino acids (L-leucine, L-valine, L-isoleucine), 2,5% taurine, 0,02% vit. B6 (pyridoxine hydrochloride), bulking agent - microcrystalline cellulose, anti-caking agent - magnesium stearate, capsule (gelatin, colour: E 171). *exogenic amino acids; **RDA – recommended daily allowance; #The variations of amino acid profile's values may occur. This is typical for natural based products.
DIRECTIONS 1 portion (6 capsules) 2-3 times daily
WARNINGS Keep out of the reach of young children. Do not exceed the recommended daily dose. Food supplements should not be used as a substitute for a varied and balanced diet. A varied and balanced diet and a healthy lifestyle are important. Do not take during pregnancy and in children or for prolonged periods without consulting a doctor.
| | |
| --- | --- |
| Type | Capsules |
| Container size: | 30 caps. |