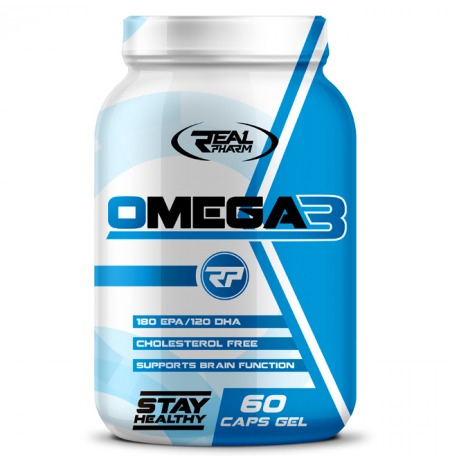 View larger
REAL PHARM OMEGA 3 60 SOFTGEL
* Fish Oil Rich In Omega-3 Acids!
* Lowers LDL Cholesterol And Triglycerides Blood Levels!
* Supports Immune System!
* Supports Heart, Eyes And Brain Function!
REA000003
New
Availability date:
Real Pharm Omega 3 is a top quality dietary supplement containing oil obtained from Atlantic fish. Scientific studies confirm that these oils are an excellent source of unsaturated fatty acids, including DHA (docosahexaenoic acid) as well as EPA (eicosapentaenoic acid).
Omega 3 fatty acids are building components of cell membranes, neurolemmas, peripheral nerves, synaptic membranes and neurotransmitters.  Consequently, they contribute to the proper functioning of the nervous system.
Lipids are essential for the proper functioning of the human body. They are not synthesized and therefore have to be supplied with food.
Real Pharm Omega 3 will supply your body with top quality unsaturated fatty acids, which are key nutrients for athletes, physically active people as well as everyone who lives a sedentary lifestyle.
NUTRITION FACTS
| | | |
| --- | --- | --- |
| Active ingredients | 1 Capsule | %ZDS |
| Fish oil including: | 1000mg | ** |
| EPA 18% | 180mg | ** |
| DHA 12% | 120mg | ** |
| Vitamin E | 1,1 IU | 3,67% |
%RDA – Recommended Daily Allowance, ** – RDA not established.
DIRECTIONS Take 1 capsule 3 times a day straight after meal. Wash down with 300 ml (10 oz.) of water.
WARNINGS Keep out of the reach of young children. Do not exceed the recommended daily dose. Food supplements should not be used as a substitute for a varied and balanced diet. A varied and balanced diet and a healthy lifestyle are important. Do not take during pregnancy and in children or for prolonged periods without consulting a doctor.
| | |
| --- | --- |
| Type | Softgel Capsules |
| Container size: | 60 caps |