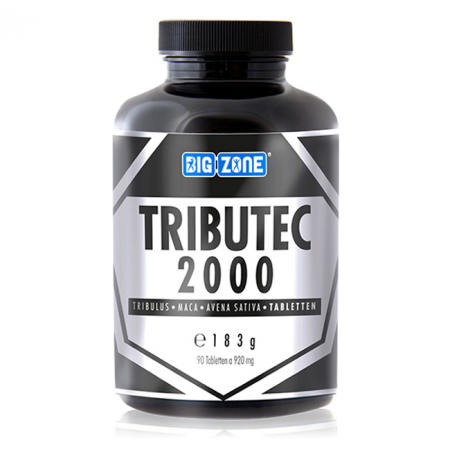 View larger
BIG ZONE TRIBUTEC 90 Tablets
* 1000 mg of Tribulus Per Tablet 80 % Saponins

* Increase Testosterone Level

* 400 mg Of Maca Extract Per Tablet

* The Addition Of Zinc Chelate

* Accelerates The Regeneration After Training

* 400 mg Avena Sativa Extract Per Tablet

* Better Sexual Life

* Made In Germany

* Assist In The Development Of Strength And Muscle Mass

BIG000002
New
Availability date:
Tributec 2000 is a high quality, comprehensive formulation containing extracts of Tribulus Terrestris and Maca Root, zinc and extract of Avena Sativa.
Substances that affect in the proper proportions to increase testosterone level. Elevated level of natural testosterone has a beneficial effect on the development of muscle mass and strength, improve endurance, regeneration of the body and increase libido. Contained in the preparation powdered maca root increase libido and level of energy, supporting the strength and build muscle mass. Extract of Avena sativa, which is also present in the composition Tributec 2000, increases the level of free, unbound testosterone in the blood, and strengthens the heart and cardiovascular system. Added in the formula chelated zinc also stimulates the body to produce more testosterone, so that works in combination much stronger.
Big Zone - quality in the first place. Big Zone is one of the best and most popular brands in the demanding German market. It belongs to the company headquarter in Berlin, existing since 1993. Big Zone All products are exclusively manufactured in Germany and are subject to constant quality controls required in this country. They are created together with researchers in the field of nutrition, pharmacy and biochemistry.
NUTRITION FACTS
INGREDIENTS
Extract of Tribulus Terrestris (80% saponins),
Maca root powder,
Extract Avena Sativa,
cellulose, anti-caking agents: magnesium salts of edible fatty acids, the binder - tricalcium phosphate, flavors,
zinc chelate,vegetable oil, sweeteners (sucralose, neotame).
ENERGY: 100g: 1124 kJ/269kcal, in one capsule: 22.8 kJ/5,5 kcal
NUTRITIONAL VALUE in one capsule: Protein 0.2 g Carbohydrates 0.7 g Fat < 0.1 g
Tribulus Terrestris Extract 1000 mg - In tymsaponiny 800 mg
Maca Root 400 mg
Avena Sativa Extract 400 mg
5.0 mg zinc chelate - In this saponin 1.0 mg.
DIRECTIONS
The recommended allowance is 3 tablets daily. Take the product with 300ml of water.
WARNINGS Keep out of the reach of young children. Do not exceed the recommended daily dose. Food supplements should not be used as a substitute for a varied and balanced diet. A varied and balanced diet and a healthy lifestyle are important. Do not take during pregnancy and in children or for prolonged periods without consulting a doctor.
| | |
| --- | --- |
| Type | Tablets |
| Container size: | 90 tabs |