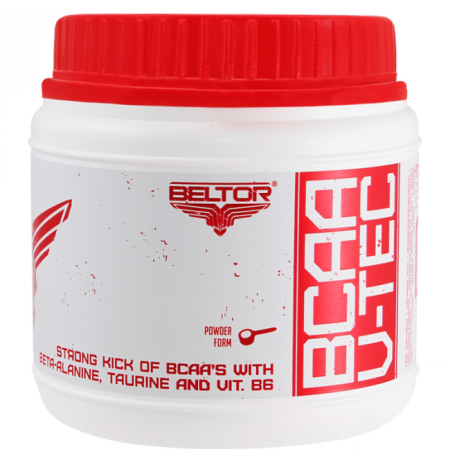 View larger
BELTOR BCAA V-TEC 250g / 0.55 lb
*

Great Solubility
* Enriched With Beta-Alanine, Taurine And Vitamin B6
* Quickly-Absorbed BCAA 
* Optimal Proportions Of L-Leucine, L-Isoleucine, L-Valine (2:1:1)  


BEL000002
New
Availability date:
BCAA V-TEC is a combination of completely soluble BCAA amino acids with a striking portion of taurine and beta-alanine. This product uses the highest quality raw materials, resulting from a complex process of purification and instanization characterized by a very neutral fragrance. BCAA V-TEC provides L-leucine, L-valine and L-isoleucine in a 2:1:1 ratio, as an easy, tasty, quickly-absorbed drink. The product also contains vitamin B6, which contributes to the smooth functioning of the nervous system and is very important, for example, during strenuous workouts. Recommended daily portion is 20 g (4 scoops).
NUTRITION FACTS
ACTIVE INGREDIENTS:
| | |
| --- | --- |
| | AMOUNT PER DAILY ALLOWANCE (20g) |
| V-Tec BCAA 2:1:1 Blend |   |
| L-Leucine | 5000,00 mg |
| L-Valine | 2500,00 mg |
| L-Isoleucine | 2500,00 mg |
| Amino Igniter |   |
| Taurine | 2000,00 mg |
| Beta-Alanine | 1500,00 mg |
| Vit. B6 | 4,00 mg (286%*) |
DIRECTIONS
Dissolve a single serving of the product – 10 g (2 scoops) in 300 ml of water in a shaker. Take 2 servings daily.
On workout days: 1st serving 30 min. before a workout, 2nd serving directly after a workout.
On non-workout days: 1st serving in the morning after getting up, 2nd serving between meals.
WARNINGS Keep out of the reach of young children. Do not exceed the recommended daily dose. Food supplements should not be used as a substitute for a varied and balanced diet. A varied and balanced diet and a healthy lifestyle are important. Do not take during pregnancy and in children or for prolonged periods without consulting a doctor.
| | |
| --- | --- |
| Type | Powder |
| Container size: | 250 g / 0.55 lb |