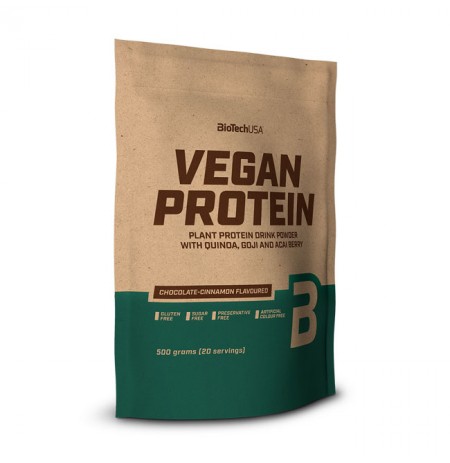 View larger
BIOTECH USA VEGAN PROTEIN 500G /1.10 LB
* Contains All The Amino Acids That Muscles Need!
* By Choosing A Protein Made Of Plant Ingredients, You Take Care Of Ecology!
* It's Very Tasty!
* Vegan Protein Complex (Rice And Peas) With Added Functional Amino Acids!
* Sugar- And Lactose-Free!
* Gluten-Free!
* No Preservatives!
* No Artificial Colour!
* Non-GMO!
* Aspartame-Free!
BIO000035
New
Availability date:
BIOTECH USA VEGAN PROTEIN is a protein supplement, which is based on plant ingredients, including coo and rice, and most importantly, contains all the full-value amino acids needed for proper functioning! It is also worth noting that the product does not contain added sugar and gluten, thanks to which many allergy sufferers can reach for Vegan Protein. Due to the growing number of vegans and vegetarians, the demand for products without animal ingredients is growing, which is why the specialists from Biotech laboratories have designed a protein that is ideal for this group.
In contrast to animal foods, plant foods are not complete sources of protein, which means that they do not contain all the essential amino acids that the body needs. However, by supplementing them (with a combination of different sources of vegetable protein) a full-blown protein complex can be obtained. In vegan protein, we have achieved this by combining two sources of protein that complement each other perfectly - rice protein that contains some lysine, but is rich in sulfur-containing amino acids (such as cysteine ​​and methionine) and pea protein that contains fewer sulfur-containing amino acids, but but richer in lysine. This excellent base has been enriched with additional additions.
SUPPELEMENTS FACTS Per serving (25g):
* 106 kcal
* 19 g protein
Added amino acids:
* 1390 mg L-Glutamine
* 650 g L-Arginine
DIRECTIONS Mix 1 serving (25g = 3 flat tablespoons) of powder with 250ml of water. Use 1 - 3 servings a day.
WARNINGS Keep out of the reach of young children. Do not exceed the recommended daily dose. Food supplements should not be used as a substitute for a varied and balanced diet. A varied and balanced diet and a healthy lifestyle are important. Do not take during pregnancy and in children or for prolonged periods without consulting a doctor.
| | |
| --- | --- |
| Type | Powder |
| Container size: | 500G / 1.10 LB |