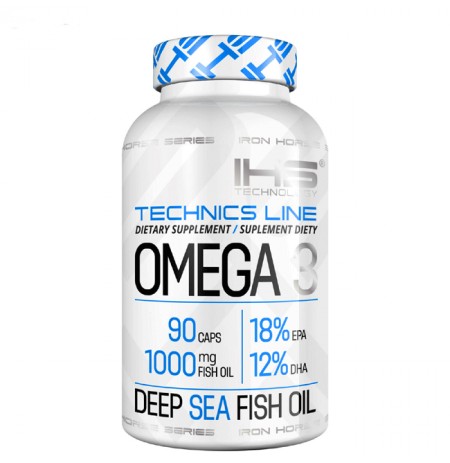 View larger
IHS OMEGA 3 90 CAPSULES
* Mono- And Polyunsaturated Fatty Acids!
* Supports Heart, Eyes And Brain Function!
* Improves Cardiovascular Health!
* Lowers LDL Cholesterol And Triglycerides Blood Levels!
* Supports Immune System!
* Essential For Proper Hormones Secretion In Men And Women!
* Increases Hemoglobin Level In Blood And Amount Of Oxygen In The Body!
* Improves Muscle Growth And Fat Loss!
IHS000007
New
Availability date:
Polyunsaturated fatty acids OMEGA3, which consist of min. docosahexaenoic acid (DHA) and eicosapentaenoic acid (EPA) have an impact on the maintenance of normal blood pressure and to maintain the normal functioning of the heart. They also have an impact on the maintenance of normal levels of triglycerides in the blood, whereas the role of vitamin E is the protection of DNA, proteins and lipids from oxidative damage Each capsule contains 1000mg of omega 3 fish oil concentrate, containing 18% EPA and 12% DHA.
NUTRITION FACTS
Qualitative composition including active substances

Amount per serving (3 Caps)

daily value in % RDI*

Fish oil

1000 mg

–

including

DHA

120 mg

–

EPA

180 mg

-

Vitamin E

2 mg

50%

* RDI – Reference Daily Intake in %
DIRECTIONS It is recommended to take 1 capsule 3 times a day to the main meal of the day. DO NOT EXCEED THE RECOMMENDED DAILY INTAKE (3 caps).
WARNINGS Keep out of the reach of young children. Do not exceed the recommended daily dose. Food supplements should not be used as a substitute for a varied and balanced diet. A varied and balanced diet and a healthy lifestyle are important. Do not take during pregnancy and in children or for prolonged periods without consulting a doctor.
| | |
| --- | --- |
| Type | Capsules |
| Container size: | 90 caps |