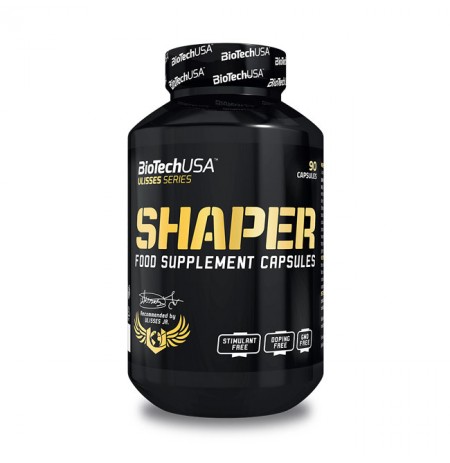 View larger
BIOTECH USA ULISSES SHAPER 90 CAPSULES
* Caffeine Free! Lactose Free! Doping Free!
* Can Be Safeley Used For A Long Therm!
* Suports Wheiht Loss And Fat Burning Processes!
* Both For Ladies And Gentlemen!
* Safe For Lactose Intolerant Or Sensitive To Caffeine! 
BIO000030
New
Availability date:
BIOTECH USA ULISSES SHAPER - Weight Loss & Fat Burner -Stimulant Free -Doping Free -GMO FMO
* With Functional Amino Acids: L-Carnitine And L-Tyrosine!
* With 2 Types Of Herbal Extract: Garcinia Cambogia (HCA) And Conjugated Linoleic Acid (CLA)!
* With 4 Types Of Trace Elements: Chromium, Iodine, Iron And Zinc!
* With 5 Vitamins: Vitamin B Complex (Vitamins B3, B5, B6 And B12) And Folic Acid!
INGREDIENTS

The product contains vitamin B6 and vitamin B12 that contribute to the normal functioning of the immune and nervous system, and to energy-generating, healthy metabolic processes. The zinc content of the product helps to maintain a normal acid-base balance, a healthy carbohydrate as well as fatty acids metabolism. The chromium content of the product contributes to the maintenance of a regular blood sugar level. The product's iron content helps you maintain a healthy intellectual capacity. In addition, the iodine content of the product contributes to the normal production of thyroid hormones and a healthy functioning of the thyroid gland.
DIRECTIONS
Take 3 capsules daily with water. Do not exceedthe recommended dosage!
WARNINGS:Keep out of the reach of young children. Do not exceed the recommended daily dose. Food supplements should not be used as a substitute for a varied and balanced diet. A varied and balanced diet and a healthy lifestyle are important. Do not take during pregnancy and in children or for prolonged periods without consulting a doctor.
| | |
| --- | --- |
| Type | Capsules |
| Container size: | 90 caps |