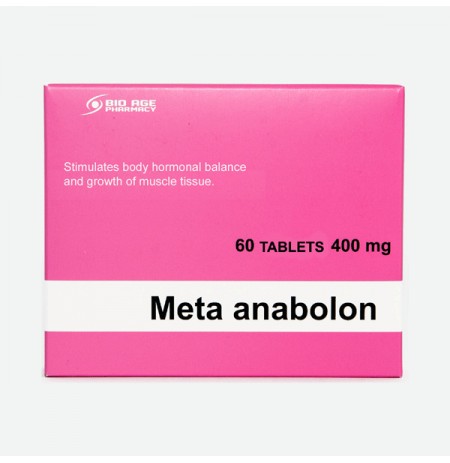 View larger
BIO AGE PHARMACY META ANABOLON 60 TABS
✔ Supports The Growth Of Muscle Mass!
✔ Enhances Men's Vigor And Vitality!
✔ Increases Libido And Potency!
✔ Distinguished By Natural Composition!
✔ Antioxidant Effect!
✔ Supports Detoxification Of The Body!
✔ Anti-Inflammatory Properties!
✔ Supports General Health!
BIO000029
New
Availability date:
The composition of Bio Age Pharmacy Meta Anabolon is based on smilax officinalis extract containing, among others, stigmasterol, pollinastanol, sitosterol, smilagenin, parillin and sarsapognin and a number of steroidal saponins, including sarsaponin, smilasaponin, sarsaparillozyd, sitosterol glycoside. This dietary supplement contains high levels of male hormones, orrogens, which imitate testosterone 17β-hydroxy-4-androstene-3-one and Dehydroepiandrosterone 1-ketosteroid produced in the retinal zone (zona reticularis) of the adrenal cortex glandulae suprarenalis. 
Thanks to the imitation the preparation is attributed the ability to retain increased amounts of nitrogen in the body and the increase in protein synthesis, which may result in increased anabolism and muscle growth. Meta Anabolon beta-sitosterol, considered the best phytosterol from terrestrial parts of plants, enhances T cell proliferation, increases the secretion of IL-2 and gamma interferon, and strengthens the activity of NK cells, which increases the effectiveness of the immune response. 
The described food supplement contains a rich set of vitamins including A, C, D, B and polysaccharides and amino acids as well as valuable minerals, including zinc, iron, manganese, sodium, silicon, copper, iodine and sulfur. Importantly, the preparation used by athletes does not cause any side effects! It is also recommended for people of adulthood due to a number of health-promoting properties and a positive effect on internal organs. It has aphrodisiac properties.
Supplements Facts

Serving size: 1 tablet

Servings per container: 120

Package size: 60 / 120 tabs

Composition in a serving

1 tab.

Smilax officinalis

200 mg

Maltodextrin

200 mg
DIRECTIONS: Take 1-2 tablets a day after the first meal.
WARNINGS: Keep out of the reach of young children. Do not exceed the recommended daily dose. Food supplements should not be used as a substitute for a varied and balanced diet. A varied and balanced diet and a healthy lifestyle are important. Do not take during pregnancy and in children or for prolonged periods without consulting a doctor.
| | |
| --- | --- |
| Type | Tablets |
| Container size: | 60 tabs. |