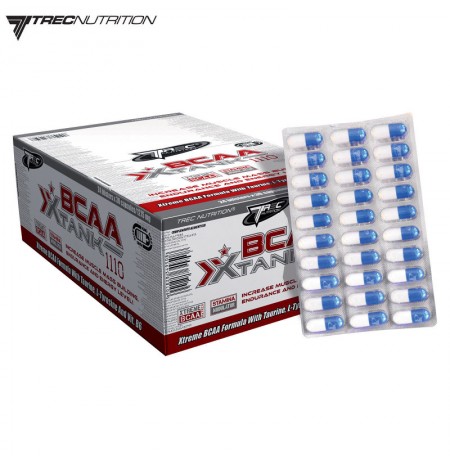 View larger
TREC NUTRITION®BCAA X-TANK 1110 30-120 CAPSULES
* Increase Muscle Mass Building, Endurance And Energy Level
* Effective Support During Intensive Training
* Enriched With Taurine And L-Tyrosine
* Excellent Proportions Of BCAA Amino Acids 2:1:1 
New
Availability date:
BCAA X-TANK is an exceptionally effective formula containing branched-chain amino acids L-leucine, L-isoleucine and L-valine, in optimal proportions of 2:1:1. They exhibit powerful anabolic action and constitute almost 40% dry muscle mass. BCAA X-TANK has been supplemented with taurine, L-tyrosine and vit. B6, making it more effective at supporting energetic processes, inhibiting symptoms of fatigue and protein catabolism. BCAA X-TANK is recommended as a daily supplement to a sporting diet with BCAA, essential for muscle growth and regeneration.
NUTRITION FACTS
Serving size

9 cap.

6 cap.**

Active ingredients

XTREME BCAA MATRIX

L-Leucine

4050 mg

2700 mg

L-Valine

2025 mg

1350 mg

L-Isoleucine

2025 mg

1350 mg

STAMINA MODULATOR

Taurine

1125 mg

750 mg

L-Tyrosine

675 mg

450 mg

Vit. B6 pyridoxine hydrochloride

2,10 mg(150%*)

1,40 mg(100%*)
* Reference Intake
** A single serving of the product
DIRECTIONS Recommended daily dose is 3 capsules 2–3 times a day; wash down with 300 ml of water. On workout days: 1st serving in the morning after getting up, 2nd serving 30 min. before a workout, 3th serving directly after a workout. On non-workout days: 1st serving in the morning after getting up, 2nd serving between meals, 3th serving at bedtime.
WARNINGS Keep out of the reach of young children. Do not exceed the recommended daily dose. Food supplements should not be used as a substitute for a varied and balanced diet. A varied and balanced diet and a healthy lifestyle are important. Do not take during pregnancy and in children or for prolonged periods without consulting a doctor.
| | |
| --- | --- |
| Type | Capsules |
| Container size: | 30 - 120 capsules |