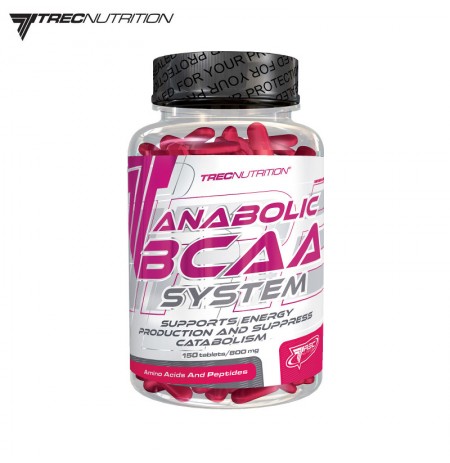 View larger
TREC NUTRITION® ANABOLIC BCAA SYSTEM 150-300 TABLETS
* More Energy For Exercise
* Halts Muscle Protein Degradation
* Innovative Formulation As Fast-Acting Caplets
New
Availability date:
Anabolic BCAA System contains a composition of branched chain amino acids L-Isoleucine, L-Leucine and L-Valine in optimal dose ratios enhanced in Vitamin B6 and energizing Taurine in the form of quickly absorbed caplets. Intense workout reduces branched amino acids that build your muscles. Anabolic BCAA System quickly helps halt catabolism and intensify the regeneration of muscle proteins. The product intensifies muscle strength and mass gain, and considerably improves the efficiency of your body.
NUTRITION FACTS
Serving size

8 Capsules

Active ingredients

L-Isoleucine

1792,00 mg

L-Leucine

1592,00 mg

L-Valine

1016,00 mg

Taurine

1000,00 mg

Vit. B6

5,36 mg(383%**)
* Reference Intake
** Serving daily product
DIRECTIONS A portion of the preparation drink about 300 ml of water. Training days: 8 tablets per 45 minutes. before training. On non-workout days: 2 times a day 4 tablets approx. 30 min. before meals.
WARNINGS Keep out of the reach of young children. Do not exceed the recommended daily dose. Food supplements should not be used as a substitute for a varied and balanced diet. A varied and balanced diet and a healthy lifestyle are important. Do not take during pregnancy and in children or for prolonged periods without consulting a doctor.
| | |
| --- | --- |
| Type | Capsules |
| Container size: | 150-300 Tablets |