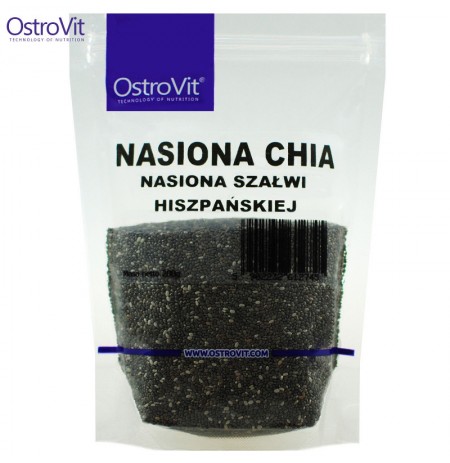 View larger
OSTROVIT® CHIA SEEDS 200 G / 0.44 LB
* High Antioxidant Food
* Prevents Premature Skins Aging

*

Improves Digestive Health

*

Regulates Cholesterol And Lowers Blood Pressure
*

Extremely Beneficial To Consume For Heart Health
* Helps Treat Diabetes
* Boosts Energy and Metabolism
* Stronger Bones - Large Content Of Calcium
* Build Muscle And Lose Weight - Top Plant-Based Sources Of Protein
OST000039
New
Availability date:
Chia seeds, or the seeds of the Spanish sage are a real mine of nutrients. They contain more omega-3 than Atlantic salmon, more calcium than milk and more iron than spinach. Moreover, they are a rich source of protein, fiber, calcium, magnesium, potassium and phosphorus.
Chia seeds, and contained Omega-3 has a beneficial effect on the cardiovascular system. Together with the fiber, they contribute to reduce the level of "bad" cholesterol, LDL and triglyceride levels, and thus lower the risk of heart disease.
Due to the high protein content of Chia seeds are recommended for athletes, vegetarians, vegans, people on a diet and care about lean. Due to the high fiber content they give a long a feeling of satiety, which facilitates the process of weight loss.
Moreover, Chia seeds are suitable for children, pupils, students and all persons engaged in mental work. They support the brain, facilitate learning, improve memory and concentration. Additionally support the nervous system - calming, and may even help relieve the symptoms of depression.
Chia seeds are extremely easy to incorporate into your diet. They are the perfect addition to virtually everything.
In the kitchen are used as:
• in addition to pastries, cakes, cookies, breads.
• in addition to dishes soups, sauces, vegetable dishes.
• in addition to salads, cereals, Owsianek, cereals, grits, puddings, desserts, yoghurts.
• in addition to fruit smoothies.
Great Source Of Omega-3 * Energy Booster * Dental Health * Build Muscle And Lose Weight
| | |
| --- | --- |
| Container size: | 200 g / 0.44 lbs |