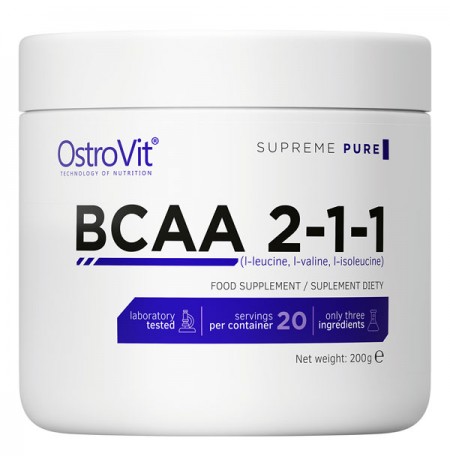 View larger
OSTROVIT® BCAA 2-1-1 200 G / 0,44 LB
* Increases Anabolism

* Support Extreme Muscle Growth

* Builds Strength And Tremendous Power

* Ensures Proper Regeneration After Workout

* Ultra-Micronized
* BCAA Superior 2:1:1 Ratio Formulation With mTor Activation

OST000021
New
Availability date:
Extra Pure BCAA 2:1:1 is the agent for particular nutritional uses including in the composition of the highest quality BCAA branched amino acids, in the most favorable ratio of 2:1:1. These amino acids are characterized by the extensive use among athletes, especially strength sports.
Why use a product EXTRA PURE BCAA 2:1:1?
- Works anticatabolically! Rebuilding your muscle cells. 
- Are the essential amino acids necessary, that is to say that the body has to be obtained from the diet since it is not able to synthesize their own. 
- Stimulate anabolic processes of the body. 
- BCAA are about 35% of your muscle mass, why supplementation is extremely important. 
Why you should choose this particular product?
OstroVit's vision is to create products with high quality, transparent composition and very low price.  And that is established product EXTRA PURE BCAA 2:1:1,  100% pure BCAA without any additives. If you have been using a product of this type pay attention to how many % of BCAA is in your supplement? 
Do not feel cheated in this connection that the product contained only 60%, 70% or 80% branched amino acids? So buying our product you can be sure that you are getting a product in which you have only BCAA amino acids. Compare prices and take decisions for yourself!
NUTRITION FACTS
Amount Per Serving

Per 1 Serving – 3 Scoops (10g)

L-Leucine

4000 mg

L-Isoleucine

2000 mg

L-Valine

2000 mg

Other: L-Leucine, L-Isoleucine, L-Valine, powdered rape (lecithin) – emulsifying agent, citric acid – acidity regulator, flavors, sucralose – sweetener, stevia extract – sweetener.
DIRECTIONS Dissolve  10 g (3 scoops) in 100-200 ml (5-10 oz.) of water. Depending on your needs take 1-2 servings daily. On workout days: before breakfast and immediately after workout. On non-workout days: before breakfast.
WARNINGS Keep out of the reach of young children. Do not exceed the recommended daily dose. Food supplements should not be used as a substitute for a varied and balanced diet. A varied and balanced diet and a healthy lifestyle are important. Do not take during pregnancy and in children or for prolonged periods without consulting a doctor.
| | |
| --- | --- |
| Type | Powder |
| Container size: | 200 g / 0.44 lbs |