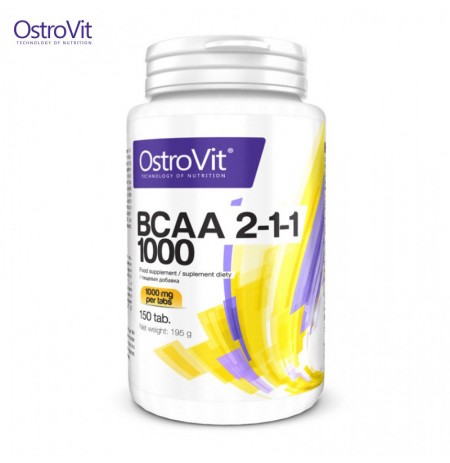 View larger
OSTROVIT® BCAA 2-1-1 1000 150 TABS
* Increases Anabolism

* Support Extreme Muscle Growth

* Builds Strength And Tremendous Power

*

Ensures Proper Regeneration After Workout
* BCAA Superior 2:1:1 Ratio Formulation With mTor Activation
OST000019
New
Availability date:
OstroVit 2-1-1 BCAA 1000 is a dietary supplement containing a composition of high quality branched chain amino acids BCAA, in the most favorable ratio of 2: 1: 1. These amino acids are characterized by the extensive use among athletes,particularly sports power.
Why use the product OstroVit 2-1-1 BCAA 1000?
- Works anticatabolically! Restoring your muscle cells.
- These are the essential amino acids necessary, that is to say that the body must be obtained from food since it is no able to finish their synthesized.
- Stimulate anabolic processes of the body.
- BCAA constitute about 35% of your muscle mass, why supplementation is extremely important.
NUTRITION FACTS
Amount Per Serving

In 5 Tablets

L-Leucine

2500 mg

L-Isoleucine

1250 mg

L-Valine

1250 mg

Other: L-Leucine, L-Isoleucine, L-Valine, filler – calcium phosphate; anti-caking agents: magnesium salts of fatty acids, silicon dioxide.
DIRECTIONS Take a single serving of the product – 5 tablets, wash down with approx. 300 ml (10 oz) of water. Depending on your needs take 1-2 servings daily.
On workout days: in the morning after getting up, immediately after the training. On non-workout days: in the morning after getting up.
WARNINGS Keep out of the reach of young children. Do not exceed the recommended daily dose. Food supplements should not be used as a substitute for a varied and balanced diet. A varied and balanced diet and a healthy lifestyle are important. Do not take during pregnancy and in children or for prolonged periods without consulting a doctor.
| | |
| --- | --- |
| Type | Tablets |
| Container size: | 150 tabs. |