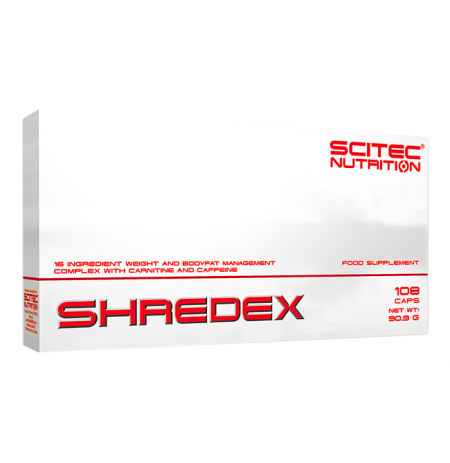 View larger
SCITEC NUTRITION SHREDEX 108 CAPSULES
* Promotes Weight And Bodyfat Management
* Turns Fat Into Energy
* Reduces Blood Choresterol Levels And Triglycerides
* Stimulates The Burnning Of Fatty Acids
* Strong Antioxidant Effect
* Regulates Bloos Sugar Levels

SCI000005
New
Availability date:
SHREDEX is a stimulant, but Synephrine free weight and bodyfat management complex. It provides 16 ingredients, including L-Carnitine, Hydroxycitric Acid (HCA) from Garcinia cambogia extract, and Epigallocatechin gallate (EGCG) from Green Tea extract and it can contribute to the control of bodyweight, bodyfat and sense of hunger. SHREDEX contains Chromium that contributes to normal macronutrient metabolism and to the maintenance of normal blood glucose levels.*
*These statements have been scientifically proven by the European Food Safety Authority (EFSA) and authorized by the European Commission (EC).
NUTRITION FACTS
Serving size: 3 capsules
Servings per container: 36
Amount Per Serving

In 3 Capsules

NRV%*

Chromium

13.8 mcg

34.5%

Caffeine (total amount)

220 mg

"SHREDEX" complex

L-Carnitine L-Tartrate

500 mg

L-Phenylalanine

300 mg

L-Tyrosine

300 mg

Caffeine Anhydrous

200 mg

Garcinia cambogia extract

200 mg

(60% HCA: Hydroxycitric Acid)

Green Tea extract (min. 50% Polyphenols)

200 mg

Bitter Melon extract (min. 10% Charantin)

100 mg

Dandelion extract (min. 20% Flavonoids)

100 mg

Hesperidin 93%

50 mg

Inositol

50 mg

Naringin 93%

50 mg

Quercetin Dihydrate 84%

50 mg

Resveratrol extract 8%

50 mg

Alpha Lipoic Acid

10 mg

Bioperine® (>95% Piperine)

5 mg

Chromium Picolinate

120 mcg

* NRV%: Nutrient Reference Values
INGREDIENTS L-Carnitine L-Tartrate, Bovine Gelatin, L-Phenylalanine, L-Tyrosine, Caffeine Anhydrous, Garcinia cambogia (Fruit) 20:1 extract, Camellia sinensis (Leaf) 8:1 extract, Momordica charantia (Fruit) 15:1 extract, Taraxacum officinale (Root) 16-19:1 extract, Hesperidin extracted from Citrus aurantium fruit (93%), Inositol, Naringin extracted from Citrus Paradisi Fruit (93%), Quercetin Dihydrate extracted from Sophora japonica bud (84%), Polygonum cuspidatum (Root) 8-10:1 extract, Alpha Lipoic Acid, Bioperine® Piper (Fruit) 50:1 extract, Colors (Titanium Dioxide, Red Iron Oxide, Allura Red AC**), Chromium Picolinate.
**May have an adverse effect on activity and attention in children
DIRECTIONS It's advised to begin usage with 1-2 caps 1-2 times daily to assess stimulant tolerance. Build up to a maximum of 3 capsules when taken at the same time. Cycle usage: 12 weeks on, at least 2 weeks off. Avoid any other sources of stimulants while on!
WARNINGS Keep out of the reach of young children. Do not exceed the recommended daily dose. Food supplements should not be used as a substitute for a varied and balanced diet. A varied and balanced diet and a healthy lifestyle are important. Do not take during pregnancy and in children or for prolonged periods without consulting a doctor.
ALLERGEN INFO Manufactured in a facility that processes milk, egg, gluten, soy, peanuts, nuts, celery, fish and crustacean ingredients.
| | |
| --- | --- |
| Type | Capsules |
| Container size: | 108 caps. |