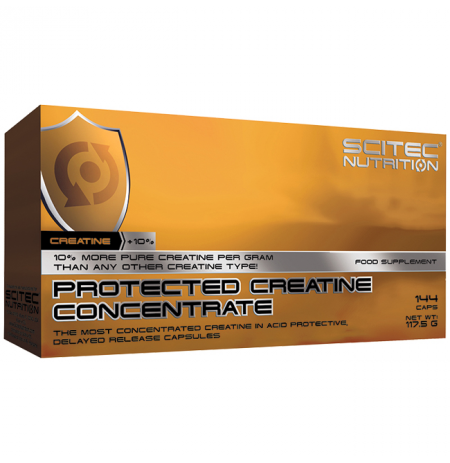 View larger
SCITEC NUTRITION PROTECTED CREATINE CONCENTRATE 144 CAPSULES
* The Most Concentrated Creatine
* Speeds Up Muscle Atp Regeneration 
* Improves Muscle Power And Strength
* Drives More Fluids Into The Muscle Cells
* Increases Muscle Volume And Vascularity
* Speeds Up Muscle Recovery During Exercise
* Fights Off Muscle Soreness And Fatigue
SCI000004
New
Availability date:
PROTECTED CREATINE CONCENTRATE delivers the most concentrated Creatine in stomach acid protective, delayed release vegetarian capsules! These plant-based special capsule shells are designed for optimal delivery of sensitive active ingredients. Our Creatine source is standardized to provide at least 10% more pure, elemental Creatine per gram than any other Creatine type – that means you get more actual Creatine that does something for you! Typically Creatine HCl is only 75% Creatine, so PROTECTED CREATINE CONCENTRATE gives you about 23% more Creatine per same gram dose!
Creatine in the dose provided by PROTECTED CREATINE CONCENTRATE (at least 3 grams daily) is scientifically proven to increase performance in repeated short-term, high intensity exercise like weight training sets and very intense interval cardio!*
Our protective capsule delivery system is based on acid-resistant capsule shells that only release their content in the intestinal environment where it will be absorbed and not in the stomach.
These capsules reduce the exposure of ingredients in an empty stomach environment, and help to protect ingredients from that acidic environment. Also, these caps protect the precious active ingredients from moisture while being stored!
*This statement has been scientifically proven by the European Food Safety Authority (EFSA) and authorized by the European Commission (EC).
NUTRITION FACTS
Serving size: 5 capsules
Servings Per Container: 28
| | |
| --- | --- |
| Amount Per Serving | In 5 Capsules |
| Creatine Anhydrous | 3100 mg |
| of which pure Creatine | 3038 mg |
INGREDIENTS Creatine Anhydrous, Hydroxypropyl Methyl Cellulose (Hypromellose), Anti-caking Agent (Magnesium Stearate), Stabilizer (Gellan Gum), Color (Titanium Dioxide).
DIRECTIONS Take 5 capsules daily preferably with a meal.
WARNINGS Keep out of the reach of young children. Do not exceed the recommended daily dose. Food supplements should not be used as a substitute for a varied and balanced diet. A varied and balanced diet and a healthy lifestyle are important. Do not take during pregnancy and in children or for prolonged periods without consulting a doctor.
ALLERGEN INFO Manufactured in a facility that processes milk, egg, gluten, soy, peanuts, nuts, celery, fish and crustacean ingredients. 
| | |
| --- | --- |
| Type | Capsules |
| Container size: | 144 caps. |