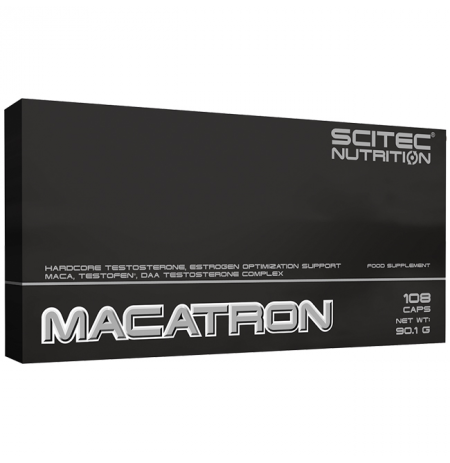 View larger
SCITEC NUTRITION MACATRON 108 CAPSULES
* Advanced Testosterone - Boosting Support
* Inhibits The Conversion Of Testosterone To Estrogen

* Provides DAA, Maca, Vitamins And Minerals

* Increases Muscle Strength And Promotes Muscle Growth

* Increases Sexual Drive And Libido
* Stronger And Longer - Lasting Erections

SCI000002
New
Availability date:
MACATRON is an ultra sophisticated, comprehensive Testosterone, Estrogen and libido optimization support matrix with 13 carefully selected, potent ingredients!

Besides DAA (D-Aspartic Acid) and herbal ingredients – including Maca – it provides important vitamins and minerals. Maca has traditionally been used as an aphrodisiac, it's a legendary sex-enhancing root. Testofen® is a Fenugreek extract with at least 50% Fenuside™. Fenugreek is a well-known, versatile herb that contains over 100 phytochemical constituents, including Furostanol Saponins and Steroidal Saponins. While Fenugreek has multiple applications, Testofen® has been shown to increase sexual desire and help maintain sexual health and muscle mass. The group of Saponin glycosides that Testofen® is standardized to is named Fenuside™.

MACATRON contains Boron; and the flavonoid Quercetin as well, which helps to inhibit the conversion of Testosterone to Estrogen and so does Mangosteen. Nettle lignans may help decrease the binding of Sex Hormone-Binding Globulin (SHBG) to Testosterone and this may help ensure that more free Testosterone is available, which is the active form in the body! Nettle root extract is best used with Saw Palmetto. Vitamin B5 contributes to normal synthesis and metabolism of steroid hormones, Vitamin D and some neurotransmitters. Vitamin B6 helps with the regulation of hormonal activity and reduces tiredness and fatigue. Vitamin D contributes to the maintenance of normal muscle function and has a role in the process of cell division. Zinc contributes to normal fertility and reproduction and to the maintenance of normal testosterone levels in the blood.*

*MACATRON is stackable with monocomponent Tribulus products!

*These statements have been scientifically proven by the European Food Safety Authority (EFSA) and authorized by the European Commission (EC).
NUTRITION FACTS
Serving Size: 4 capsules
Servings Per Container: 27
Amount Per Serving

In 4 Capsules

NRV%*

Vitamin B5 (Pantothenic Acid)

1.8 mg

30%

Vitamin D3 (Cholacalciferol)

5.0 mcg

100%

Vitamin B6 (Piridoxine)

0.84 mg

60%

Zinc

6.0 mg

60%

Quercetin dihydrate

100 mg

Boron

3.6 mg

"MACATRON" COMPLEX":

D-Aspartic Acid (1000 mg), Nettle extract (600 mg), Maca powder (400 mg), Avena extract (100 mg), Testofen® Fenugreek extract (100 mg), Mangosteen extract (100 mg), Saw Palmetto extract (100 mg)

2400 mg
* NRV%: Nutrient Reference Values.
INGREDIENTS D-Aspartic Acid, Urtica dioica (Leaf) 10:1 extract, Bovine Gelatin, Lepidium meyenii Root powder, Anti-caking agent (Magnesium Stearate), Avena sativa (Seed) 5:1 extract, Garcinia mangostana (Fruit rind) 10:1 extract, Quercetin extracted from Sophora japonica bud (84%), Serenoa repens (Fruit) 12:1 extract, Testofen® Trigonella foenum-graecum (Seed) 33:1 extract (standardized for a minimum of 50% Fenuside™), Boric Acid, Zinc Sulfate Monohydrate, Color (Titanium Dioxide), Cholecalciferol, Calcium D-Pantothenate, Pyridoxine HCl.
DIRECTIONS Take 2 capsules with breakfast and 2 capsules with dinner daily.
WARNINGS Keep out of the reach of young children. Do not exceed the recommended daily dose. Food supplements should not be used as a substitute for a varied and balanced diet. A varied and balanced diet and a healthy lifestyle are important. Do not take during pregnancy and in children or for prolonged periods without consulting a doctor.
ALLERGEN INFO Manufactured in a facility that processes milk, egg, gluten, soy, peanuts, nuts, fish and crustacean ingredients. 
| | |
| --- | --- |
| Type | Capsules |
| Container size: | 108 caps. |