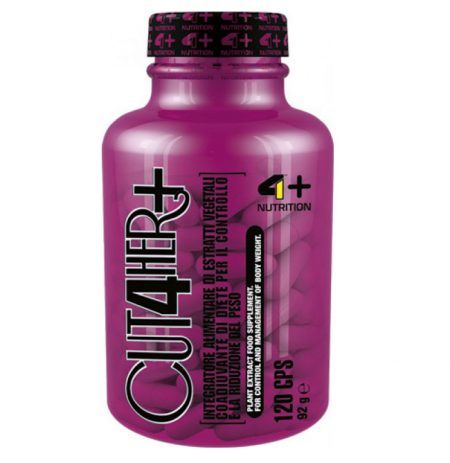 View larger
4+ NUTRITION CAT FOR HER 120 Capsules
* Maintains A Healthy And Fit Body 

* Antioxidant Action

* Stimulates Metabolism

* Thermogenic Formula

* Fat Tissue Reduction

* Weight And Fat Loss
4+N000010
New
Availability date:
CUT 4 HER+ contains a unique formula made up of vegetable extracts only. It has been specifically designed for women who want to maintain body weight. CUT HER 4+ is a thermogenic supplement that uses the active ingredients from the plants Yerba Mate and Guggul, in addition to the innovative formulas Sinetrol and Olivo Plus. Olivo Plus is derived from olives, which are one of the richest sources of polyphenols that can be found in nature. It has antioxidant, anti-aging, anti-inflammatory and antibacterial properties. Its impressive ability to neutralize free radicals (ORAC = 27000) is associated with the characteristics of the active ingredient hydroxytyrosol, which is both water-soluble and liposoluble (fat-soluble) and has a higher bioavailability compared to other antioxidants. In addition to Olivo Plus, we have also added Sinetrol, a proprietary blend that contains biophenols, a particular molecule extracted from citrus fruits that has demonstrated powerful antioxidant and lipolytic (ability to breakdown fats) activities. It is a mixture of extracts: bitter orange, grapefruit, sweet orange and guarana. This mixture takes advantage of the benefits of the Mediterranean diet to support antioxidant activity and weight control. It has been clinically proven that the active ingredients in the fruit extracts previously mentioned, together with the guarana extract lead to increased lipolysis, which contributes to weight maintenance.
NUTRITION FACTS
| | |
| --- | --- |
| For serving | 4 cps |
| Sinetrol | 1000 mg |
| Green Tea e.s | 600 mg |
| Guggul e.s. | 240 mg |
| - of which guggulsterones | 6 mg |
| Yerba Mate e.s. | 200 mg |
| - of which xanthine total | 7.2 mg |
| Oliplus e.s. | 100 mg |
| - of which polyphenols | 45 mg |
| Red pepper Capsimax e.s | 100 mg |
| - of which Capsaicin | 2.5 mg |
| Olivo e.s. | 100 mg |
| PreB Health | N/A |
DIRECTIONS Take 4 capsules once a day with water or other favourite beverage.
WARNINGS Keep out of the reach of young children. Do not exceed the recommended daily dose. Food supplements should not be used as a substitute for a varied and balanced diet. A varied and balanced diet and a healthy lifestyle are important. Do not take during pregnancy and in children or for prolonged periods without consulting a doctor.
| | |
| --- | --- |
| Type | Capsules |
| Container size: | 120 caps. |