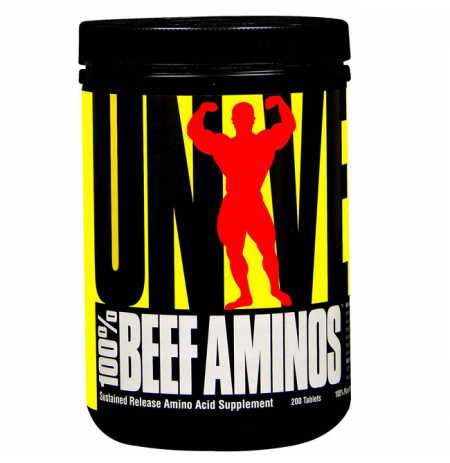 View larger
UNIVERSAL BEEF AMINOS 200 TABLETS
* 100% Pure Beef Protein Isolate
* Beef Albumin
* Argentine Beef Liver
* Increases Muscle Protein Synthesis 
* Pure Beef Amino Acids
* Muscle And Strength Growth
UNI000003
New
Availability date:
100% Beef Aminos is a high potency blend of superior beef amino acids derived from the highest quality beef protein isolate, beef albumin concentrate and Argentine beef liver. Each tablet contains a full spectrum of highly concentrated amino acids, as well as many other necessary and essential nutrients.
Each serving provides a diverse source of amino acids extracted solely from premium beef sources. When 100% Beef Aminos is taken prior to each meal, it significantly increases daily amino intake.
100% Beef Aminos harnesses the anabolic potential of beef, and in turn provides ideal support for adding muscle mass to the body. 100% Beef Aminos is a great way to tap into all the advantages of beef, without suffering from any of the disadvantages, such as the high fat content.
NUTRITION FACTS
Serving Size: 3 Tablets

Servings Per Container: 66

Amount Per Serving

% DV

Calories

12

Protein

3 g

6%*

*Percent Daily Values are based on a 2,000 calorie diet.
Typical Amino Acid Profile Grams of amino acids in 100 g of beef protein.

Essential Amino Acids

L-leucine (BCAA)

3,900 mg

L-Isoleucine (BCAA)

1,700 mg

L-Valine (BCAA)

2,800 mg

L-Threonine

2,100 mg

L-Lysine

5,100 mg

L-Phenylalanine

2,300 mg

L-Tryptophan

300 mg

L-Methionine

1,200 mg

L-Histidine

1,200 mg

Non-Essential Amino Acids

L-Arginine ††

7,300 mg

L-Aspartic Acid

6,200 mg

L-Alanine

8,800 mg

L-Cysteine

500 mg

L-Glutamic Acid

11,300 mg

L-Glycine

20,100 mg

L-Hydroxyproline

9,700 mg

L-Proline

11,100 mg

L-Tyrosine

900 mg

L-Serine

3,400 mg

†† Conditionally essential amino acid.
The amino acids in this product are naturally occurring from the protein source. They are not added or manufactured.
OTHER INGEDIENTS 100% Beef amino acid complex (beef protein isolate, beef albumin concentrate, dessicated argentine beef liver), dicalcium phosphate, microcrystalline cellulose, stearic acid, magnesium stearate, sunflower lecithin, pharmaceutical glaze. Made in a GMP facility on equipment that processes milk, soy, egg, peanuts, tree nuts, fish, shellfish, and wheat.
DIRECTIONS As a dietary supplement, take 3 tablets with each meal to help increase the amino acid content of the meal or take in between meals to help supply a steady flow of quality amino acids into your body. Daily intake can be increased gradually to 6 to 9 tablets per sitting. Take the product with 300ml (10oz.) of water.
WARNINGS Keep out of the reach of young children. Do not exceed the recommended daily dose. Food supplements should not be used as a substitute for a varied and balanced diet. A varied and balanced diet and a healthy lifestyle are important. Do not take during pregnancy and in children or for prolonged periods without consulting a doctor.
| | |
| --- | --- |
| Type | Tablets |
| Container size: | 200 tablets |