Sale!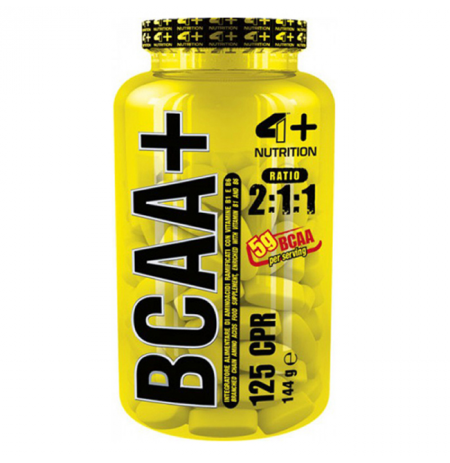 View larger
4+ NUTRITION BCAA+ 125 Tablets
* Powerful Anticatabolic Action

* Maximum Muscle Anabolism

* Branched Chain Amino Acids 

* Muscle Mass Growth

* Maximum Recovery 
4+N000006
New
Availability date:
BCAA+ is a branched chain amino acid supplement (L-Leucine, L-Valine, L-Isoleucin) with the addition of vitamin B1 and vitamin B6 to maximize assimilation and effectiveness. Each 1150 mg tablet contains 1g of amino acids in a 2:1:1 ratio.
BCAA: Branched Chain Amino Acid. Probably one of the most popular and used supplements, and for a good reason. They are three of the eight essential amino acids which our organism cannot synthesize and must therefore be obtained externally. They have a very special characteristic that unites them: differently from the others that have to be metabolized by force in the liver, these can be metabolized in other tissues of our organism, in particular the muscles. They can therefore be used by the muscles as an energy sublayer instead of them being taken away. They act on the brain with another essential amino acid, namely tryptophan, which decreases the synthesis of serotonin that contributes to the feeling of tiredness. In addition leucine, but also the other two, trigger protein synthesis directly and independently from other stimuli or signals. They are therefore particularly useful before, during and after physical activity, no matter whether aerobic, anaeorbic or mixed, or whether lasting a long or short time, because the feeling of tiredness is typical of all physical activity, especially high intensity. In the same manner, but inversely, the catabolism of muscular protein is the result of any medium or high intensity physical activity.
NUTRITION FACTS
| | |
| --- | --- |
| For serving | 5 cpr |
| L-Leucine | 2.5 g |
| L-Isoleucine | 1.25 g |
| L-Valine | 1.25 g |
| Vitamin B6 | 1.5 mg (107% RDA) |
| Vitamin B1 | 1.05 mg (95% RDA) |
DIRECTIONS Take 5 tablets once a day preferably before breakfast or before training with water or other favourite beverage.
WARNINGS Keep out of the reach of young children. Do not exceed the recommended daily dose. Food supplements should not be used as a substitute for a varied and balanced diet. A varied and balanced diet and a healthy lifestyle are important. Do not take during pregnancy and in children or for prolonged periods without consulting a doctor.
| | |
| --- | --- |
| Type | Tablets |
| Container size: | 125 tabs. |