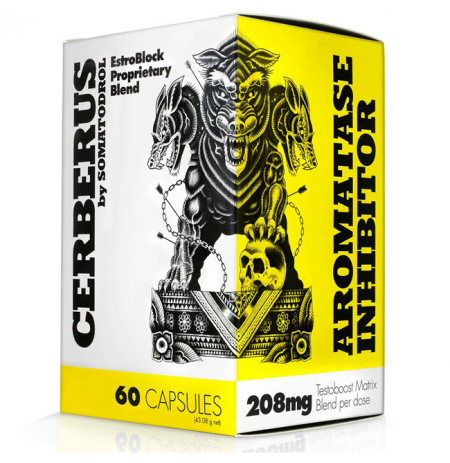 View larger
IRIDIUM LABS CERBERUS 60 CAPSULES
* It Intensifies Results Achieved With Somatodrol
*

The Unique EstroBlock Formula
*

Aromatase Inhibitor

* It Increases Growth Hormone Level In Your Blood

* Faster Muscle Regeneration After Workout

* Estrogen Blocker

IRI000002
New
Availability date:
Just like the three-headed gate keeper of the underworld, Cerberus will protect your testosterone level and will block estrogen production. Cerberus advanced formula and the best active ingredients guarantee that your hard earned testosterone will never convert into estrogen.
Trust Cerberus formula - boost your performance and get extreme gains. Cerberus has been formulated to forge muscles of steel and shred your body. Muscle gains have never been easier and faster.
If you want to unleash the beast inside you, you have to increase your testosterone levels. You need to know that there is an enzyme called aromatase, which converts androgens (including testosterone) into female hormones, estrogens. That enzyme is your enemy and Cerberus is an effective aromatase blocker.
Cerberus is just pure benefits. You will see your muscles working more effectively and your body transforming. Feel the difference, feel the force.
Cerberus proprietary EstroBlock blend contains ingredients which block estrogen production and keep testosterone levels at their peak. All this without any side effects. For best results, use it together with Somatodrol.
Cerberus is a powerful three-headed mythical beast. Cerberus by Somatodrol will let you reveal the beast in you and get an impressive, ripped body.
NUTRITION FACTS
ACTIVE INGREDIENTS:

Cerberus

Serving Size:

1 caps.

Number of Servings Per Container:

60

Packaging:

60 caps.

Content:

Servings:

Amount:

% RWS *

EstroBlock Proprietary Blend

692 mg

N-Acetyl-L-Cystenine

356 mg

Milk Thistle

183 mg

Hawthorn Berry

58 mg

Saw Palmetto Extract

95 mg

Testoboost Matrix Blend

208 mg

Fenugreek Seed Extract

140 mg

Tribulus Terrestris Powder

50 mg

Celery Seed Extract

9 mg

Grape Seed Extract

9 mg

Pantothenic Acid

13.04 mg

Zinc Gluconate

69.68 mg

Policosanol

20 mg

Pyridoxine HCL (Vitamin B6)

1.7 mg

Ingredients: Microcrystalline cellulose (E460), Magnesium stearate (E470B), Titanium Dioxide (Pigment), Quoinoline Yellow (Pigment), Erythosine (Pigment)
DIRECTIONS As a dietary supplement, take 1 capsule twice a day. Take a single serving of the product with 300 ml (10 oz.) of water.
WARNINGS Keep out of the reach of young children. Do not exceed the recommended daily dose. Food supplements should not be used as a substitute for a varied and balanced diet. A varied and balanced diet and a healthy lifestyle are important. Do not take during pregnancy and in children or for prolonged periods without consulting a doctor.
| | |
| --- | --- |
| Type | Capsules |
| Container size: | 60 caps |