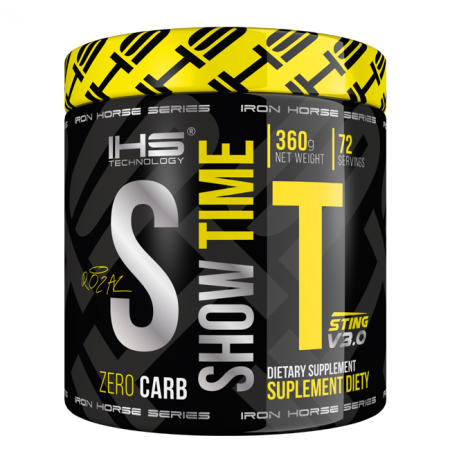 View larger
IHS SHOW TIME 3.0 360g / 0,79lb
* 100% Energy, 100% Strength, 100% Muscle Pump
* Strong Pre-Workout Booster
* Huge Dose Of Beta Alanine And AAKG
* Improves Energy And Endurance
* Improves Blood Supply To The Muscles
* Improves Motivation And Focus
IHS000012
New
Availability date:
Iron Horse Series Show Time Sting V3.0 is a pre-workout product designed for the athletes engaged in strength sports (bodybuilding, fitness), endurance sports (MMA, wrestling, boxing, cycling...) as well as athletes involved in all kinds of team sports (football, rugby... and more). The use of Show Time Sting V3.0 before a workout should contribute to a measurable improvement in sporting performance.
NUTRITION FACTS
ACTIVE INGREDIENTS:

Serving Size:

5g

Servings Per Container:

72

Contents:

Per serving

Amount:

% RWS *

Beta Alanine

1600mg

AAKG

800mg

Taurine

600mg

Tyrosine

500mg

N-acetyl-L-carnitine

500mg

Extract Yerba mate

200mg

Peel of bitter orange

200mg

Guarana

100mg

Caffeine

100mg

Magnesium

100g

26.6%

Schizandrol A

50mg

N-methyl tyramine

30mg

Vitamin B1

5 mg

454%

Vitamin B6

5mg

357%

Vitamin B12

10mcg

400%

Huperzine A

50mcg

Ingredients: beta alanine, arginine alpha-ketoglutarate, taurine, tyrosine, N-acetyl-L-carnitine, an extract of bitter orange (6% synferyny), Guarana, caffeine, Schizandrol A (obtained from Chinese magnolia), magnesium salts of citric acid , N-methyl tyramine, thiamine hydrochloride, pyridoxine hydrochloride, cyjankobalamina, Huperzine A, sweetener (sucralose), a colorant (for lemon flavor and pineapple - Quinoline Yellow) (orange flavor - Sunset Yellow), flavors: lemon, pineapple, orange - dep. of flavor, anti-caking agent: magnesium stearate.
DIRECTIONS Dissolve one full measuring scoop (5g) in a glass of water. Consume right before a workout.
WARNINGS Keep out of the reach of young children. Do not exceed the recommended daily dose. Food supplements should not be used as a substitute for a varied and balanced diet. A varied and balanced diet and a healthy lifestyle are important. Do not take during pregnancy and in children or for prolonged periods without consulting a doctor.
| | |
| --- | --- |
| Type | Powder |
| Container size: | 360 g / 0.79 lb |